This article was originally published on
Kueez
Some say Big Brother is always watching us these days. We're not sure if that's true, but we do know there are quite a few low-tech, hidden lenses out there. Whether it's nanny cams, home security systems, or even hidden hotel monitoring, anonymity is no easy task. But do we really want to know the truth? Let's take a look at some spooky, creepy, and freaky things that were revealed by hidden cameras. Some of it is shocking, to say the least!
Baby Acrobat Is Not Something You See Every Day
Ever wonder what your baby is doing when you're not around? Maybe you assume that they are pooping, sleeping, or rolling around. You'd be right to say that. But sometimes, babies get big ideas that you don't want tested when you're away. Here, a nanny cam captured an infant trying to do a balancing act on the crib railing. It's impressive this little one made it up there.
Still, we don't think this is safe! This clip is probably the very reason that child surveillance was invented. We hope this turned out all right.
The ​Raynham Hall Ghost
The controversy over other worlds continues. Some say it exists, beyond our reach. Others say it's all a bunch of hogwash. But look at this security footage! Here at Raynham Hall, a famous house in Norfolk, England, there seems to be something absolutely spooky going on. The white silhouette in the middle of the staircase is cause for concern if you believe in that kind of thing. We're a little creeped out, we must admit.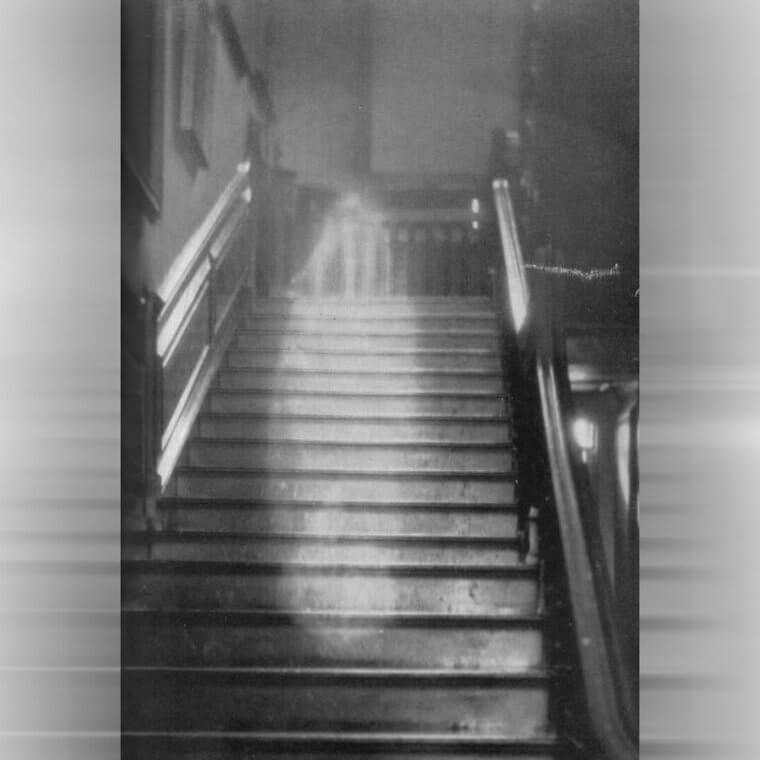 From this angle, it certainly looks like a spirit. Maybe it's a lady ghost with a long gown walking up the stairs. Or maybe, there is something smeared on the camera lens. More investigation is needed!
A Cross-Animal Friendship
We love seeing when the animal kingdom stops fighting and makes alliances. Friendships between different species seem to be an entire category of internet clickbait, and everyone likes getting baited like that. Here, a camera caught a relationship we haven't already seen. It's a raccoon and giant, wild boar. We can see that they are enjoying a night walk together. But we're surprised because these hogs are supposed to be highly aggressive.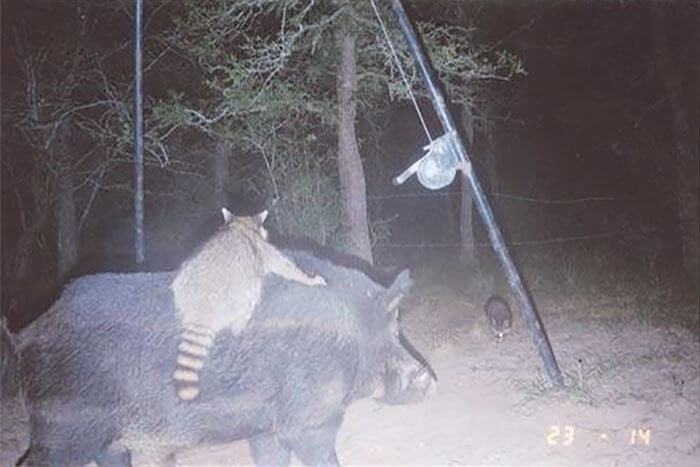 We wouldn't ride one like this, that's for sure. There have been cases on the news of serious attacks from wild boar in Texas. But maybe they're much friendlier to raccoons.
Dobby the Elf
Harry Potter certainly had its cast of characters. Our favorite elf? It was Dobby. Last we heard, the little helper shouted: "Master has given Dobby a sock. Master has presented Dobby with clothes. Dobby is free!" This security camera seems to have captured where he has been since then. Creeping up someone's driveway at night doesn't sound like something he would do. But can we disagree with cold, hard footage?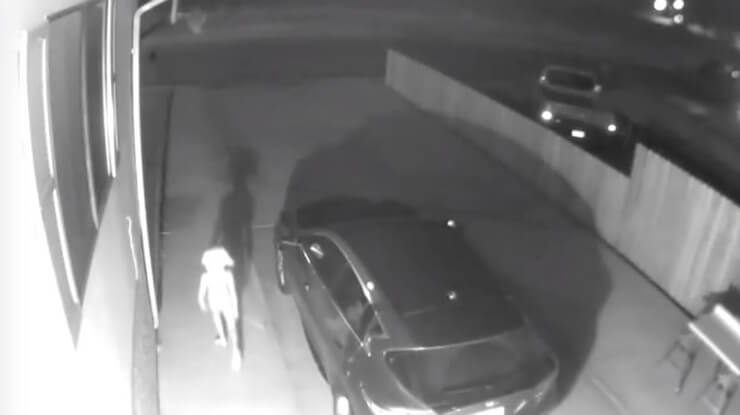 Maybe it's just a tiny man with strange ears. We don't know anyone who looks like that. But there's a first time for everything, and we want to meet him. We're open-minded!
Real Deer at Night
According to current figures, there are around 30 million deer in the USA. We don't know where they are all hiding, during the day. You'd think we see them more often. But clearly, they know how to lay low. Away from prying eyes, they seem to enjoy a good get-together. Here is one such event in the trees, where a motion sensor caused the camera to start. This is a remarkable fest of friends!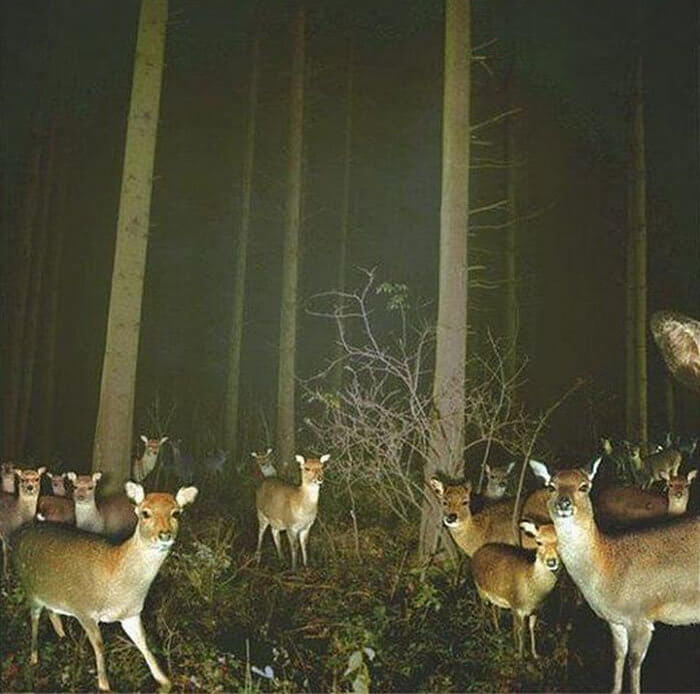 There have to be at least 20 deer here, from what we see. It seems to be a girls' night, though. There's not an antler in sight! Where are the bucks?
Praying Mantis Visit
We all fear that bugs may one day invade our homes. Usually, the issue is ants or spiders. But that's the least of our concerns, it turns out. Here, we see that there might be more diversity in the neighborhood than that. Recognize this little guy? He's a praying mantis, doing his thing. He wanted to know if this home was worth moving into, and he's taking a very close look.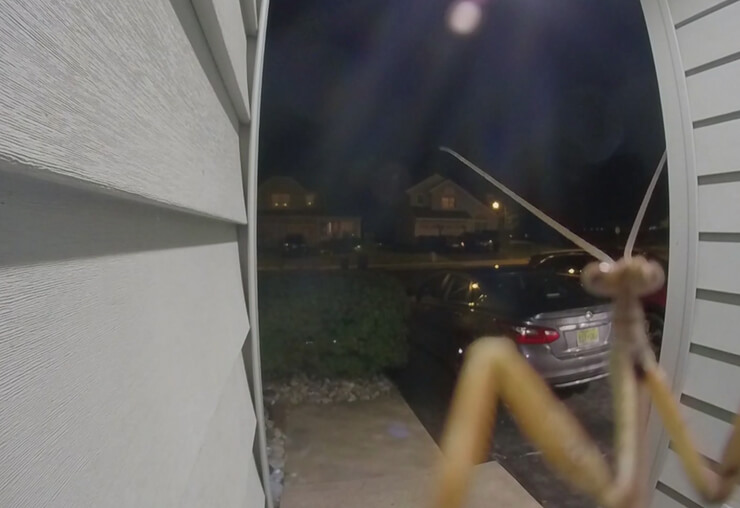 But because of the security camera installed, we get to take a very close look at him, too. Do we want him to be our new roommate? No, we do not.
The Invisible Friend
After a chilling experience, a devoted uncle posted this video online to prove his sanity. One evening, he was watching his little niece. He looked at the baby monitor and witnessed a creepy shadow over the baby's bed. it wasn't an ordinary shadow, either. It clearly looked like the outline of a man. Naturally, he rushed over to see who had entered the home uninvited. No one was there, however. Was he just seeing things?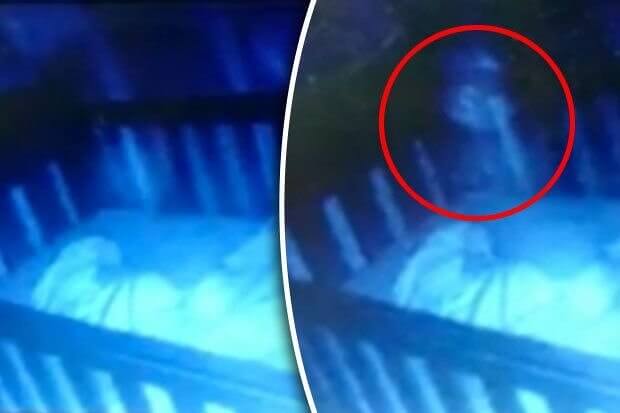 When he told her parents, they confessed they had seen the same thing several times. Everyone was freaked out, but there were no answers. They couldn't all be crazy, could they?
The Old Sitter
The last thing you ever want to find is an unwelcome guest in your home when you are sleeping. When a couple glanced over at the baby cam footage one morning, they observed a strange figure peering over the crib. It looked like an old woman, and they definitely had not invited any grandmas over. They also hadn't invited anyone over. This is was terrifying, for a lot of reasons.
The truth is, the baby's real grandma had passed away shortly before the footage was discovered. Their thoughts went straight to ghost, but we're not sure if that is the cause. There might just be a crazy old lady in the neighborhood! We suggest you look into that, mom and dad.
Accidental Hat
A  motion sensor camera caught this deer in the headlights. Or rather, in the camera lights. It looks like it is wearing a hat of some kind. Looking closely, we can tell it's actually a bunch of brambles that got caught in its antlers. We've never quite seen this mistake before. It fits in perfectly, and we're surprised it doesn't happen more often. Although we like the look, we can't imagine this is comfy.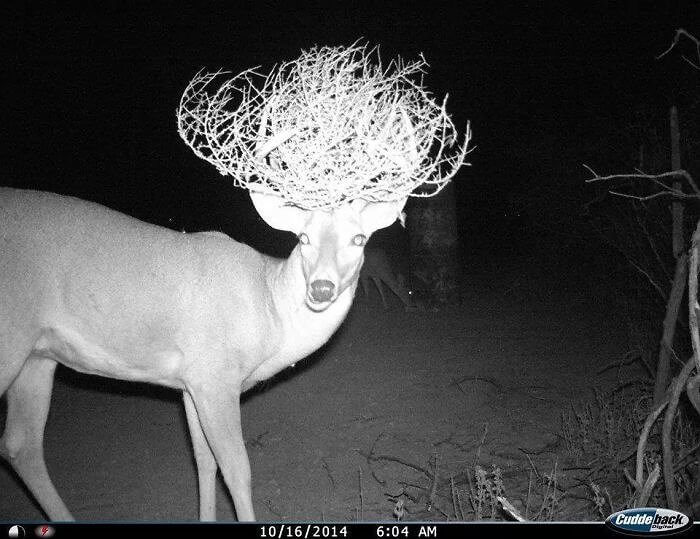 Imagine, having thorns poke you day and night, but no hands to do anything about it. Hopefully, the park rangers tracked this deer and gave it a helping hand. That's their job, right?
The Secret Torture Chamber
A man from the Czech Republic innocently set up a baby cam for his child. One day, he tuned in to see how things were going. What he didn't expect was to get the signal crossed with his neighbor, What he saw inside was a literal house of horrors. The screen showed two boys chained up in some kind of dungeon. Immediately, he called the police. No one guessed this was going on in the neighborhood!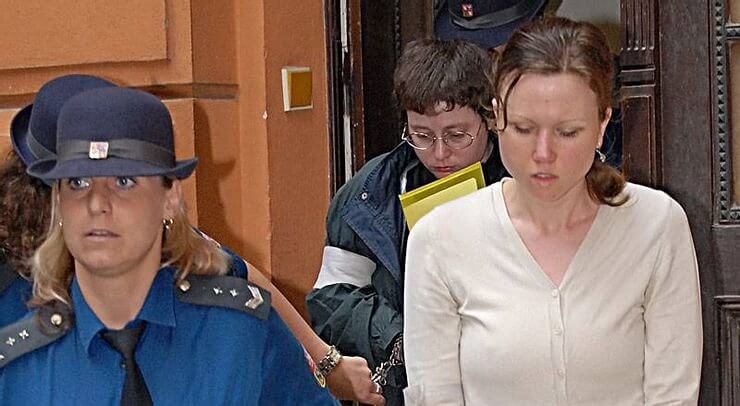 An investigation saved the boys, who had been locked up by their mother in the basement and cut with knives. The children were removed from the home, and the mother was prosecuted. All thanks to a nanny device gone haywire!
Furry ​Piano Player
We always thought piano looked challenging. There are 88 keys, and they're all the same colors. How in the world do players remember them? We suppose there is a method. This camera footage shows that we aren't the only ones curious about the correct technique. A bear has broken into a private home to test out his talent, believe it or not. We're not sure the owner knew about it!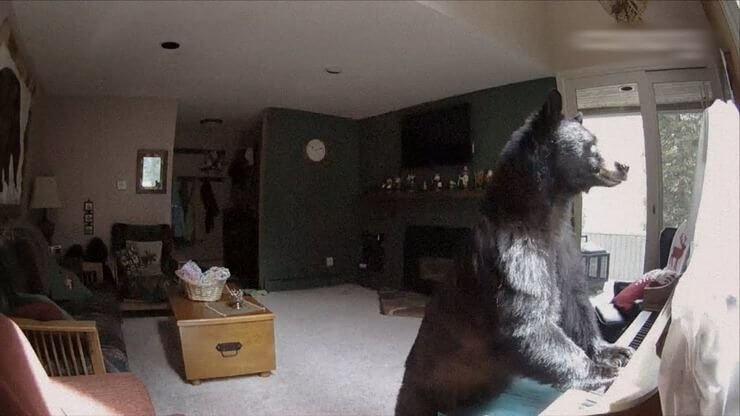 We know that these animals are talented in the arts. But usually, they perform at the circus. Maybe this bear is looking to make a career change? We support that, actually.
Doorknob Licker
This image freaks us out as much as any ghost or ghoul. We can't quite believe what we are seeing, but the home videos don't lie. It seems that there is a trend of strangers licking doorbells, out there. When you're fast asleep, these folks come out at night for a tasting. Why doorbells? We can't say for sure. But there is a clear preference, and this video proves it.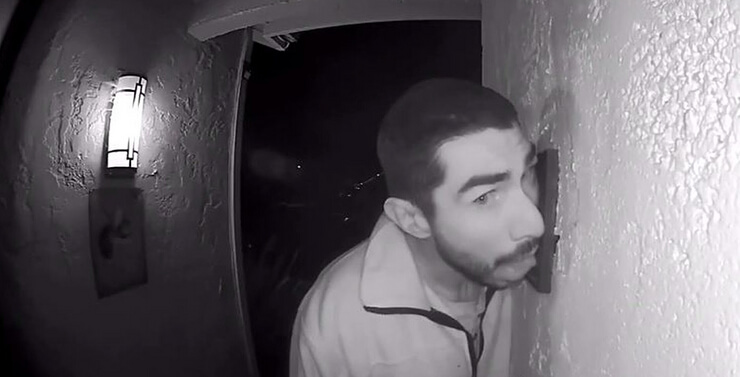 It's hard to say if this is technically illegal. It wouldn't be illegal for them to press the bell with their finger. We don't like the germ factor here. But truthfully, fingers are pretty dirty, too.
A Ghostly Orb
In 2016. a woman uploaded a video online that had left her totally shaken. She recorded the footage on her nanny cam on a cell phone video and talked over it to explain what she witnessed. Looking at it, she thought she saw a white orb of light rise off of her baby's body. Then, it seemed to hover. It sat there for about a minute in total and then went to the wall. What in the universe could it be?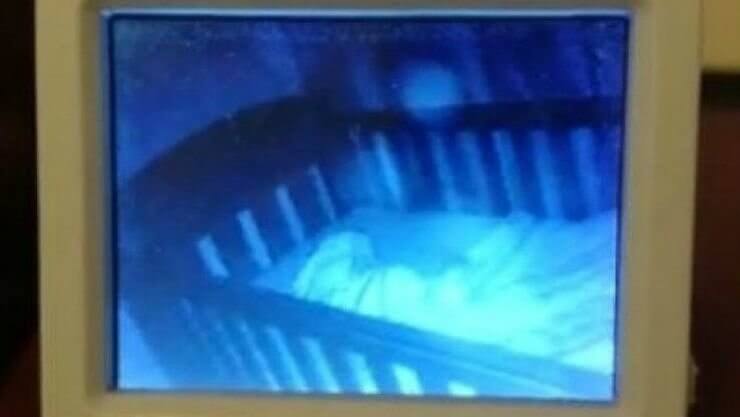 Some people say it was from another world, like a demon or a ghost. Other people thought there was something seriously wrong with her camera. For now, the mystery continues.
Forest Friends
Oh deer, what's this? We see with night vision, thanks to this camera. The deer cam is triggered by sudden motion in the dark, but it's rare that we see an image like this one. A buck and his doe are taking an evening stroll in the woods. And right by their side, we see they are escorting a guest. A little girl is wandering around. Why is she there, so late at night?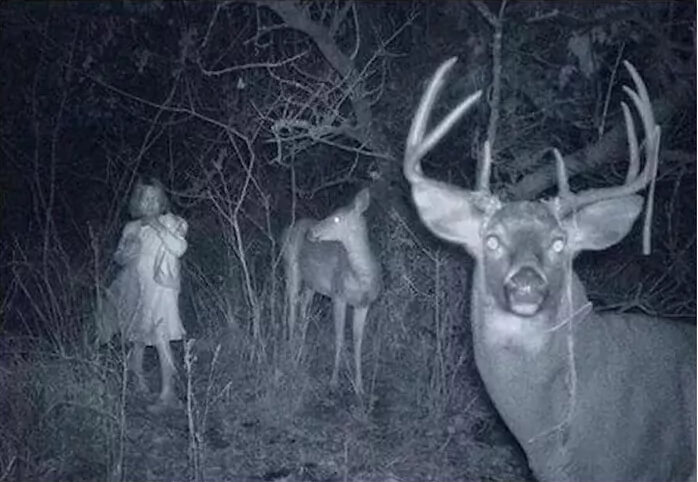 We can't imagine her parents let her play in the wilderness in the dark. Maybe she is lost, and mother nature is keeping her safe. There are wolves out there, you know!
UFO Evidence
There have been rumors about aliens landing in places like Roswell, New Mexico forever. Is the government covering it up? Former President Obama was once asked about the FBI file. He explained: "I gotta tell you, it's a little disappointing. People always ask me about Roswell and the aliens and UFOs, and it turns out the stuff going on that's top secret isn't nearly as exciting as you expect. In this day and age, it's not as top secret as you'd think."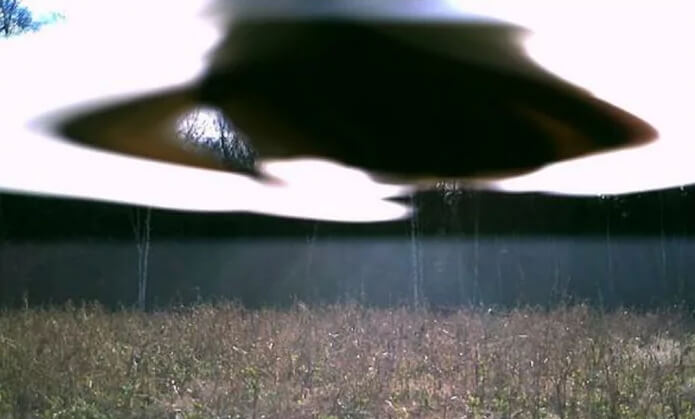 We don't know if he is telling the truth. He might be, but what about this surveillance video? A home camera system caught it, and it looks mighty suspicious to us.
Bad Sanitation
We'd all like to think that paying more means we get more for our money. When it comes to luxury hotels, we really, really, hope that is the case. The increased price tag is supposed to mean a cleaner, comfier experience. We worry about things like hidden stains and bedbugs. But this security footage has made us worry about something entirely new. Here, we see that a worker has made everything sparkle. But how did she achieve it?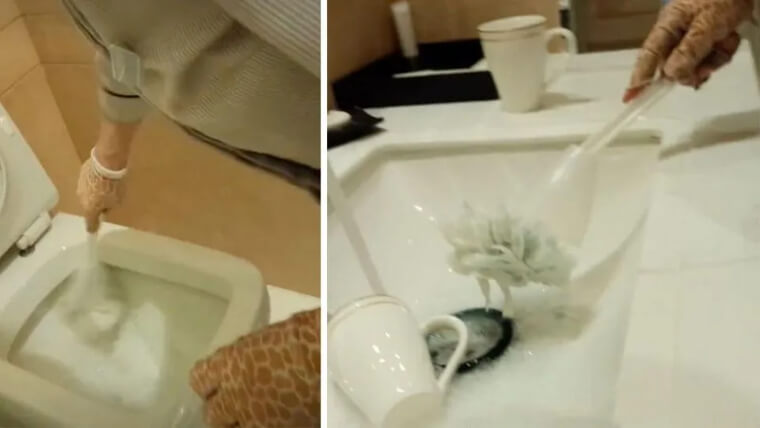 If you look closely, she seems to be using a toilet brush. For the toilet, we're grateful. But she's using it for dishes, too! We never thought we had to worry about this kind of thing, and now, we don't know where to stay. Help!
Creature From Another Dimension
We believe that we are alone in the universe. But sometimes, we see things that just cannot be explained by current data. Much of the time, we have no proof to show others what we observe. But it's fascinating when it shows up on camera because then it cannot be denied. Just what is this thing lurking in the woods? We've never seen it, and we don't think it's earthly.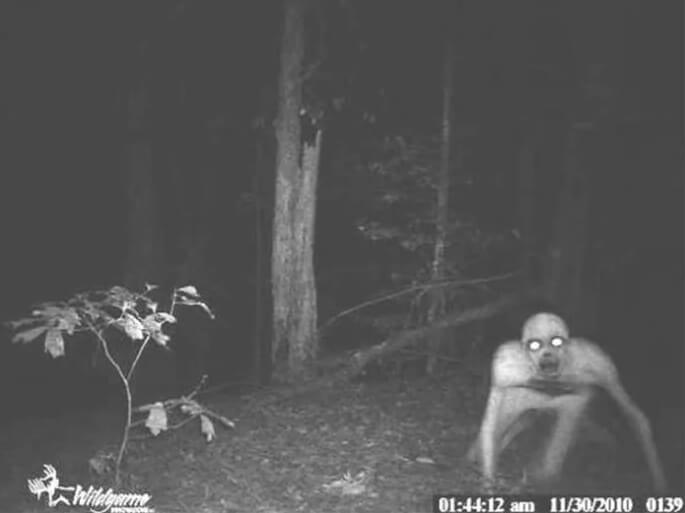 It doesn't look human or animal, oddly. It looks humanoid, at best The way it is staring ahead and crawling around is the stuff of nightmares. You can't unsee it!
Mama Bear Care
Bears are known as honey thieves, circus stars, and even pets in some strange cases we've found. But when they are actually left to their own devices, they live a perfectly rich life in nature. We don't know everything about the relationship between mama and baby bear. We know that you never want to disturb them, or risk immediate attack. But we assume that there are tender times when they can relax.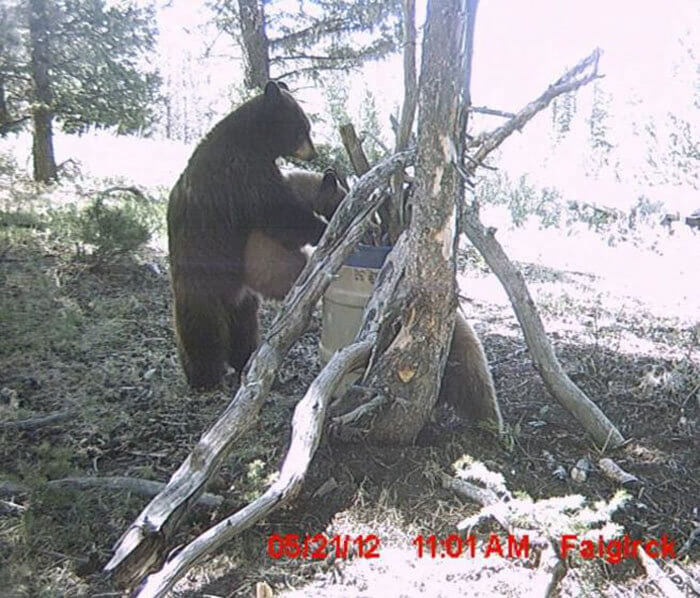 This park cam caught a pair in the middle of the day, It looks like the little one is climbing where it shouldn't. We see bear parenting in action: Get down from there!
She Wasn't Really There
A woman posted this pic online, claiming it was a screenshot of her nanny cam. Why was she disturbed enough to start a thread? She says she went to bed, and she and her husband looked at the baby monitor alter that night. What they saw was a woman they didn't know. She picked up the baby. What on earth was going on? Hubby went downstairs to check, totally freaked out.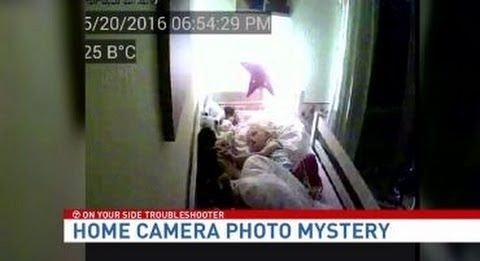 When he arrived, nothing was going on at all. What was the source of this video? Apparently, the neighbors had the same baby monitor model, and the feeds had somehow crossed. They were seeing their neighbor's child!
Freaky Forest Cam
Our favorite friendly creatures roam the land at night more than we think. With all the predators out there, it makes sense that they don't want to lay down and pass out when wolves and pumas are most active. But the one thing these herbivores don't expect is that demons might be tracking them, too. Look behind this buck, and prepare to be scared. We can't deny what we see!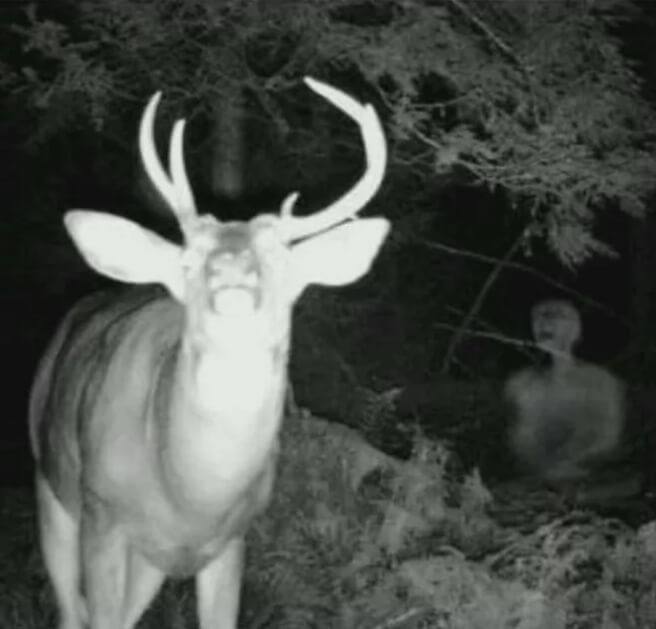 It's just sitting, for now, But it seems to be undetected by the deer, and we don't know its next move. Our guess is, it doesn't just want to play nice.
Cam Criminal
The bumps and creaks in the night can freak out anybody. Feeling safe in the dark is not always easy. But we do think that we are safe in broad daylight since we see can see everything going on. One woman in New Jersey had a real fright when she became an exception while with her young child at home. Her husband was away, and a man broke in. He started assaulting her, viciously. But guess what?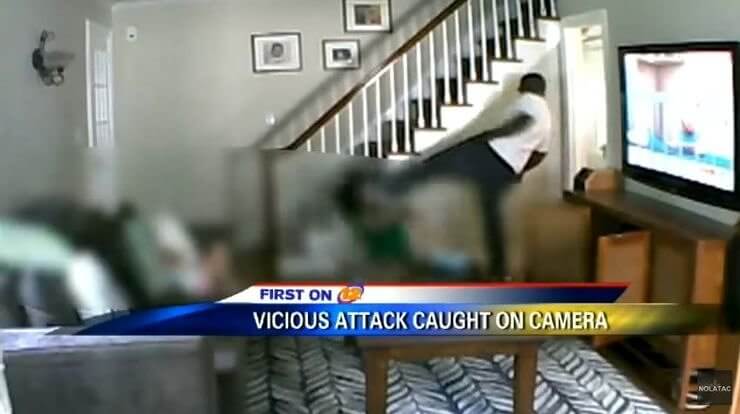 The nanny cam caught it all. He probably didn't think that was a possibility. Who has cameras in their home? As it turns out, a lot of moms do, these days. 42-year-old Shawn Custis was arrested on charges of robbery, attempted murder, and two counts of child endangerment.
Unexpected Sleepover
When you put your child to bed, you expect there might be a few surprises. Maybe there will be a bedwetting incident. Maybe there will be screams, from a bad nightmare. That's all pretty normal stuff. But one couple got incredibly spooked when they viewed their baby monitor. One morning, they noticed footage that showed two children sleeping in the crib. The only problem? They had one child.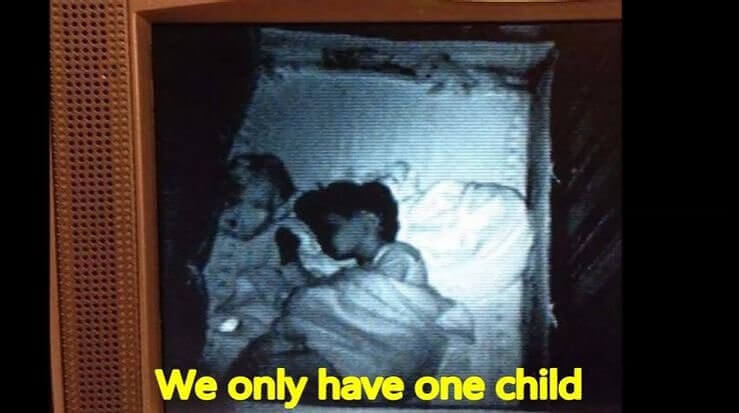 This story was posted to the internet, and users claimed it was proof of the paranormal. We're a bit skeptical. We think it might just be proof of fakers. People will post anything for clicks and likes, these days!
Raccoon Pyramid
What comes out at night to play? We never thought about it But now, we can see that there is a whole lot of activity going on in mother nature while we sleep. One social media user posted this screen still to show us a sample. This is what he found when he looked at his deer cam. He set his deer feeder high up to make sure local raccoons couldn't steal nibbles. Did it work?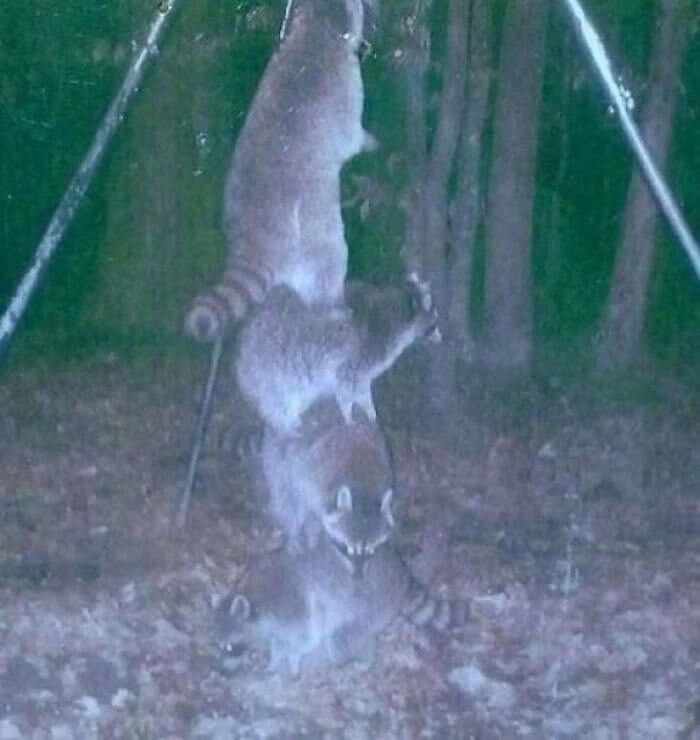 No, and we are shocked to see just how ingenious these critters are when things get tricky. Without a ladder, they still managed to find a way up. It's a raccoon tower!
They Got Hacked
A mom was woken up one night when she heard something coming from her baby camera. It wasn't just any noise, either. She heard bizarre music, but she didn't know why. Had she left the radio on? Was something else causing the music? She couldn't find the source when she went to look in the baby's room. But the music was unmissable. This was unsettling. She knew she hadn't imagined it!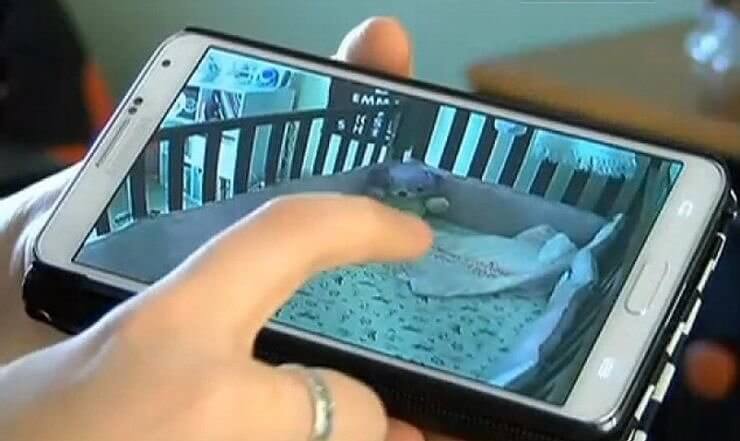 We say people should buy a closed-circuit nanny cam. If it isn't that type, it might be vulnerable to hackers online. That's actually what happened here, because her cam was hacked by weirdos abroad. Apparently, there are galleries of baby vids online!
An Epic Shot
In the canine kingdom, wolves get all the attention as top dog. But what about coyotes? Their smaller cousins have similar behavior, like howling. Here, a camera caught a pack making all kinds of music at the moon. According to scientists, coyotes howl for a few reasons. Mostly, they just like to talk to each other or establish territory. We think we hear them sometimes, off in the distance. But by nature, they are elusive.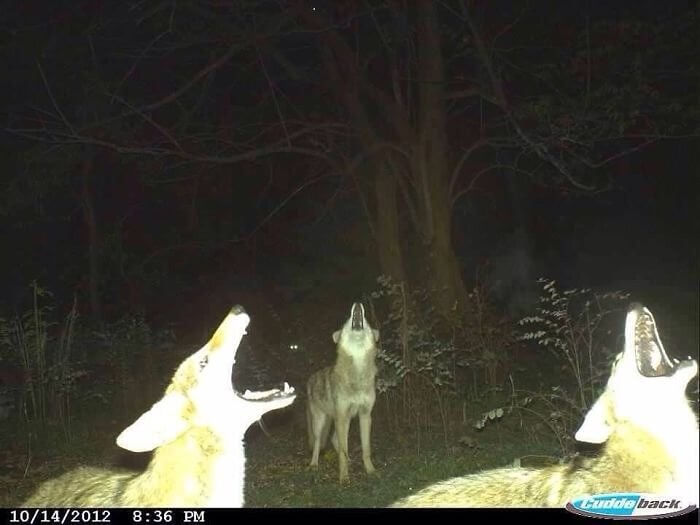 Here, a camera in the wood caught them in the act. It's a rare sight, and it looks a bit scary. They say coyotes are scared of people. But still, we're not sure we would want to be so close to those teeth.
Dad Prank
In 2014, the internet saw a prank unlike any other between a man and wife. While she was at work, he stayed home with the kids. Mom must have felt safe, knowing that the caregiving arrangement was all set up. But little did she know that she was about to be the subject of a crazy camera joke seen round the world. Because she received nanny cam automatic notification, the plan was to send her a scare.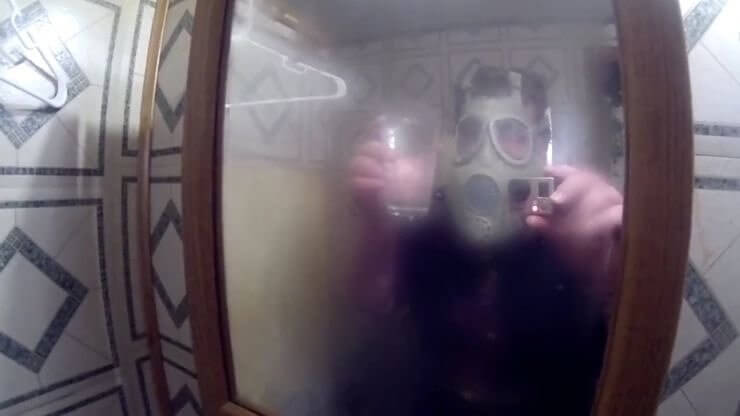 Dada dressed up in this creepy mask and made his appearance next to the child. When mom got the email, she was pretty terrified. Thankfully, this was not a real intruder, caught on camera. It was just a dad joke gone wrong!
The Beast and His Buddy
The cow is a diverse category. There are around 250 recognized breeds all around the world today. We don't know exactly what type this one is. Maybe it's not a cow at all. Is it some kind of exotic water buffalo? We are not sure. But we know that we didn't expect to see a tiny little cat riding its rump. Look at their friendship, isn't it charming, in a way?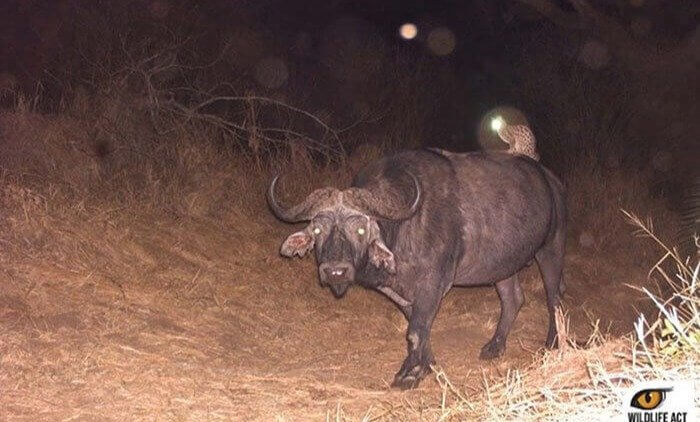 Cats are pretty active at night, which makes up for their lazy behavior during the day. We aren't shocked to see a kitty on cam. We just didn't know that buffalo were hanging out with them!
Freaky Flying Squirrel
Deer have a lot in life we wouldn't want, if we are honest. Besides large toothy predators, we know they are always running away from high-powered files and the human beings that wield them. Hunting season must be terrifying. But even if they manage to avoid becoming venison, there are other perils in nature. This dark video shows that deer also face harassment from flying squirrels. Who would have guessed?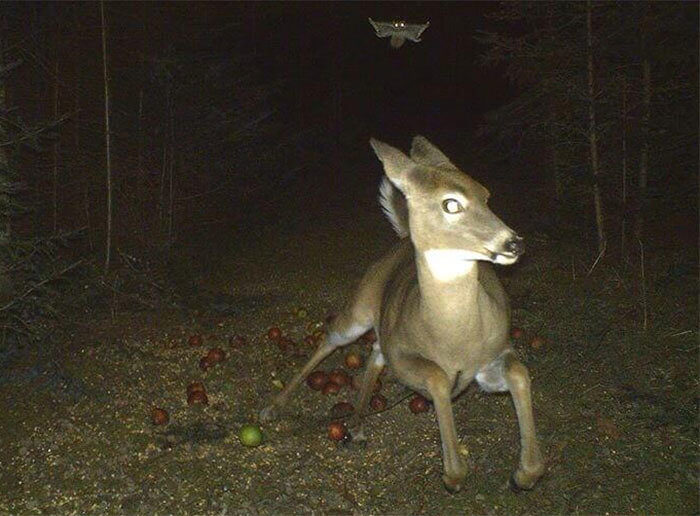 As it swoops down from above, the deer runs for its life. It might be a small attacker, but this is all happening in the dark. It's hard to assess threats, so late.
A Beautiful Moment
Foxes are somewhere in between a cat and a dog, if we have to assess their look. We think they might not actually be related to either species, though. They're just cute little critters in their own right. Some people are actually trying to domesticate them as pets. The nicest ones are taken out of the litter and duplicated, over and over and over. Maybe one day we will have them in our homes. But for now, let's just enjoy their cuteness on camera.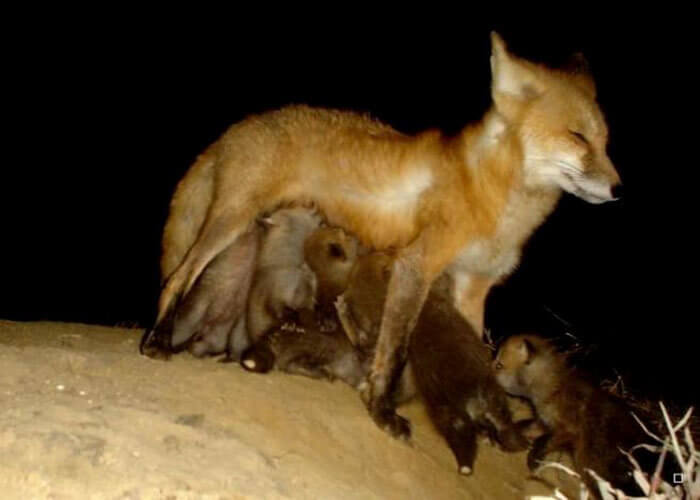 Here, we see that a mommy fox is nursing her babies. It looks like she is caring for six. That sounds like a lot, but if human babies were this fuzzy, we'd do it too.
Raccoon Party
Raccoons have a reputation for being quirky, mischievous garbage thieves. When they live in the city, that's their best source for snacks. We don't blame them. But they aren't meant to live with us. In their natural habitat, they have healthier habits. And they're pretty social, as we can see here. Late at night, a camera caught them partying in the woods. The coons managed to find an animal feeder, probably meant for another species.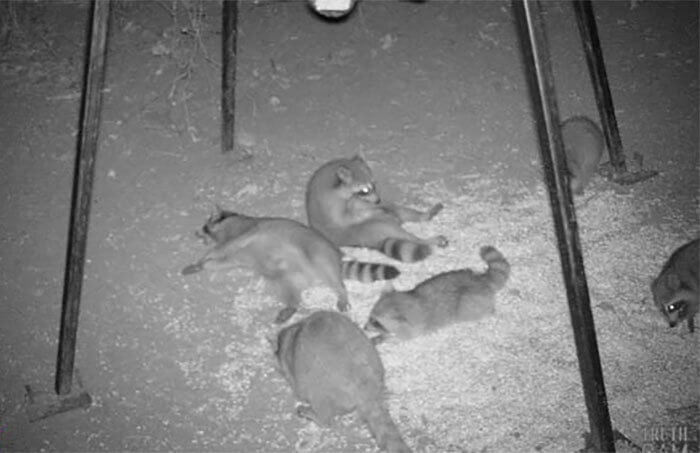 Being clever little things, they snuck right into it and released some feed. Humans have got to figure out better designs, or this will happen forever. It's just too tempting!
A Dainty Deer
Deer are four-legged animals, and we expect that most of the time, they walk on all fours. Yes, we sometimes see them jump up and land on two hooves for a moment, But they don't actually walk upright. Or do they? This late-night lens caught one exception in the herd. The deer here seems to be gracefully walking, posing, and showing off its figure. There's no runway here, but it's strutting its stuff anyway.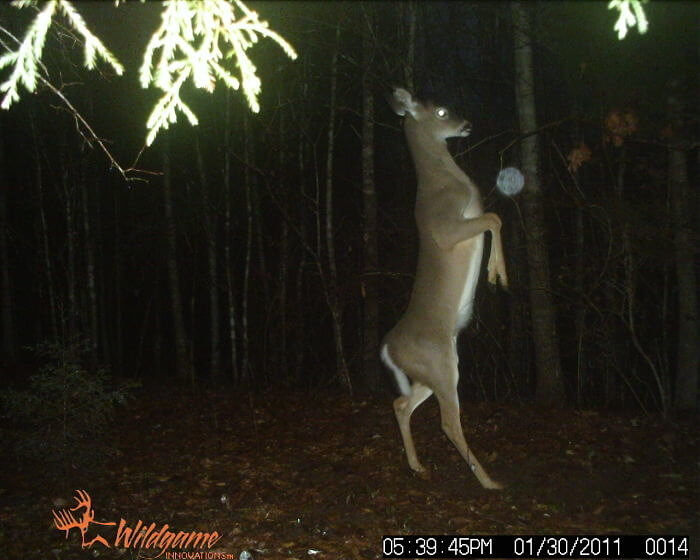 Our best advice is to lay low. This is hard to miss, and it's always good to be missed when you are a deer. Hunters look for an easy shot. Don't make it any easier for them, Bambi!
Home Invasion on Nanny Cam
Don't you hate it when you want to commit a crime, and it's all caught on film? We do, too. This burglar found out that this happens sometimes, the hard way when nanny cam footage exposed his entry into a home. He probably wanted jewels, electronics, and cash. But then, he saw a sleeping infant. That's when he got distracted and ended up right in front of a sensitive lens.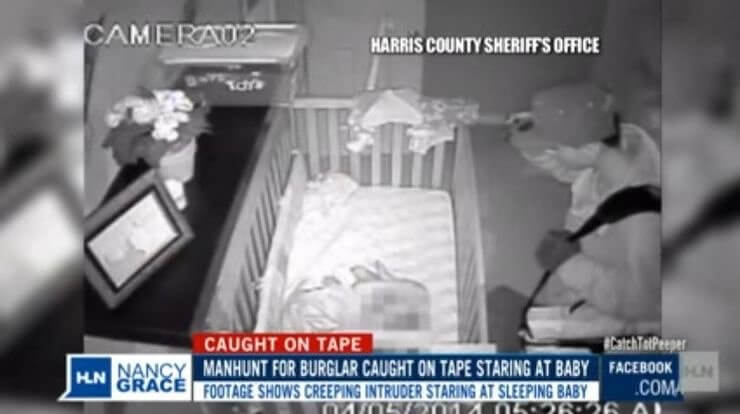 The footage showed him shining a flashlight into the crib and just watching the baby sleep. In the end, he didn't do any harm. He just stole a laptop and money. But it's truly eerie to see your own child in danger, as this couple did the next morning.
Secret Kitty Kisses
In most of the USA, people can take night strolls without fear of being mauled by a big cat. But wherever this is, watch out. Here, we see a camera caught not one, but two pumas hanging out after dark. They don't seem very aggressive right now, thankfully. Are their bellies full? We don't know, but they look busy. These powerful kitties are licking and smooching, and their affection is adorable.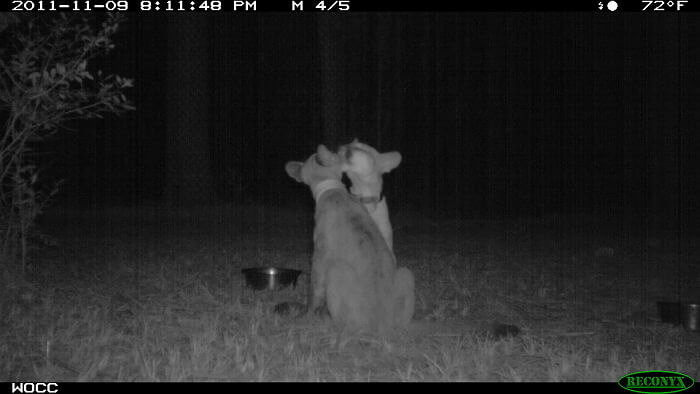 From the looks of it, someone has adopted them as pets. We see two water bowls and two collars. Even in captivity, you can find true love. But seriously, where is this legal?
Caught on Camera
We've all heard stories of daycare workers and teachers harming those in their care. Most of the time, we know it's not caught. But more and more places are using nanny cams now, to make sure that this can't occur for long. This home video exposed a 22-Year-Old babysitter beating a tiny toddler. It looked like the child just didn't want to eat, and that's when all the trouble began.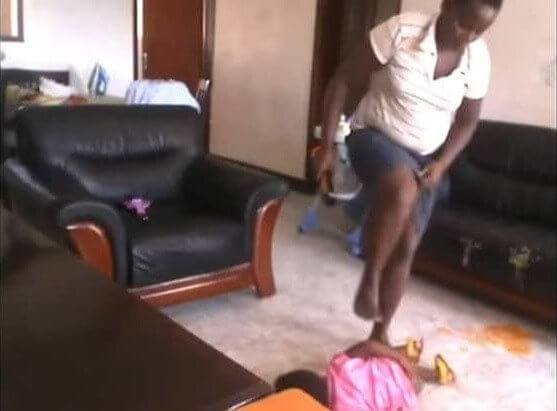 The woman started throwing her around, kicking her, and stepping on her, hard. We can't imagine what would it would be like to be on the receiving end of this assault. The hidden camera resulted in an arrest, at least.
Little Bird Says Hello
When your camera gets all busted up, but you know there are no people around in the first, you start to ask questions. What could have done this damage, way out yonder? That happened, here. A social media user posted this camera shot and explained the scene. He wrote: "My friend found his trail cam destroyed as if someone had stabbed the lens with a screwdriver. This was the last picture it ever took."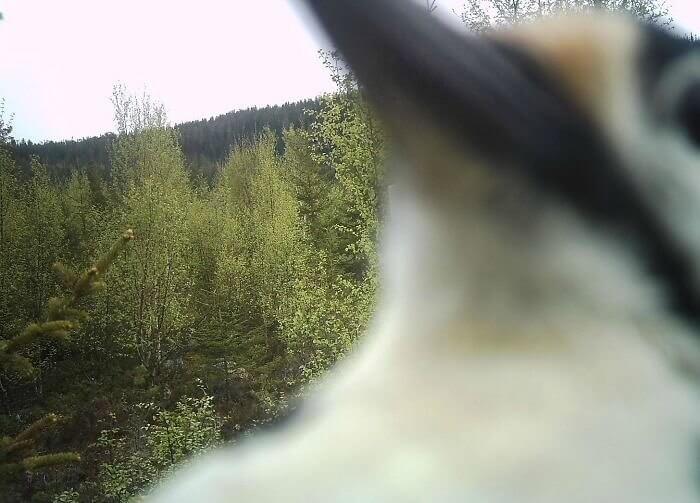 We knew that birds could be curious creatures. But we didn't think they had a lot of interest in tech. At least one time, that lesson was learned. Camera: 0. Little birdie: 1.
Possessed by Satan
In 2010, YouTube got pretty freaked out when a user posted a video showing a purported demonic possession. A mother was caught on nanny cam standing around in the doorway, swaying back and forth. and eventually crawling on the floor and snarling in her infant's room. This happened repeatedly throughout the night, as the timestamps showed. What was satan trying to tell everyone? Different viewers shared different theories on the matter.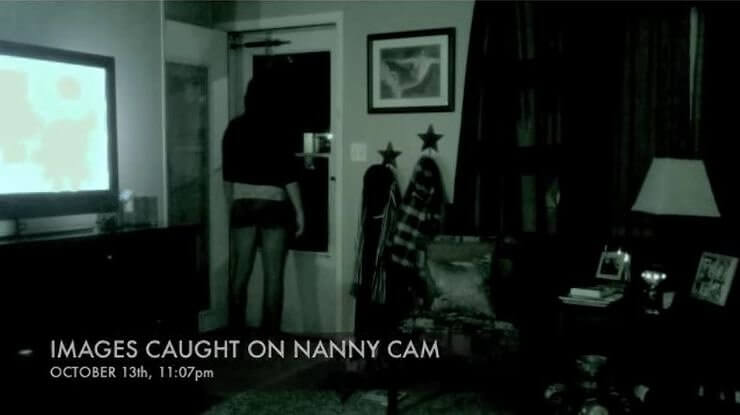 Some said he was angry. Some said this was totally fake, and the mom set it up for clicks. Others still said that mom had mental issues. We don't know the truth, but the screenshot is highly disturbing.
Stalked by the Baby Monitor
A couple was totally confused when their toddler told them, he was scared of the baby monitor. It's not like it looks scary. It's a very bland device, really. But he kept insisting, and they made note of it. What they later found terrified them, even more. One night, mom walked into the room when heard crying. Suddenly, she heard the machine saying: "Wake up little boy, daddy's looking for you."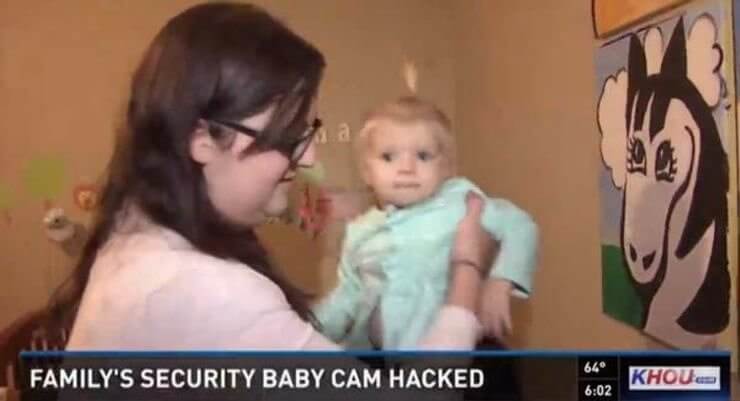 Mom stepped in front of the camera, alarmed. Then, she heard a voice saying, "Look, someone's coming." An investigation revealed that creeps had hacked into their nanny cam. We never knew that was possible!
 
We Never Suspected a Wild Party in These Woods
We know that there are many species outside of the city. They're just living their lives, and that's fine with us. But we don't know much about how they interact if we are honest. Do raccoons like deer? If so, is the feeling mutual? If you've ever wanted to answer that question with evidence, we've got all you need from this deer cam. Triggered by motion, the video tells a tale of tails.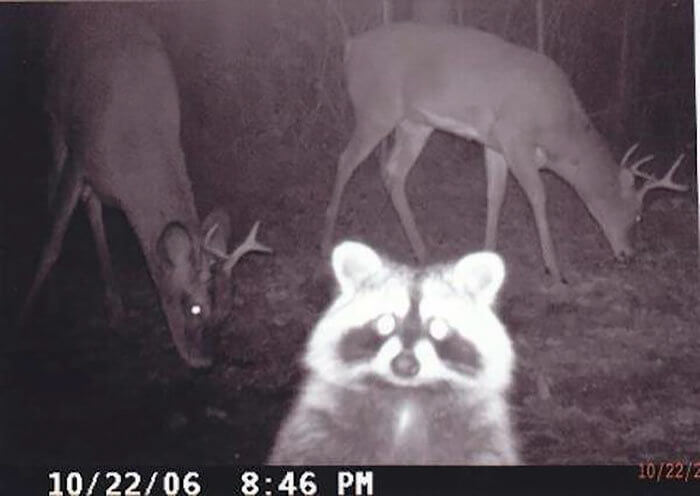 We can see that a few does are grazing, and a racoon is pretty close. The deer don't seem distressed by the coon's presence. Maybe they hang out all the time?
Ambitious Owl
Owls are pretty fearsome hunters. But their prey is usually small enough to fly away with. Bunnies, mice, and snakes beware, this is no ordinary bird. We know that they keep the ecosystem in line by munching on these creatures. But this incident caught on film confuses us completely. An aggressive owl is swooping down to get a deer in its claws. Since when does the food chain work this way?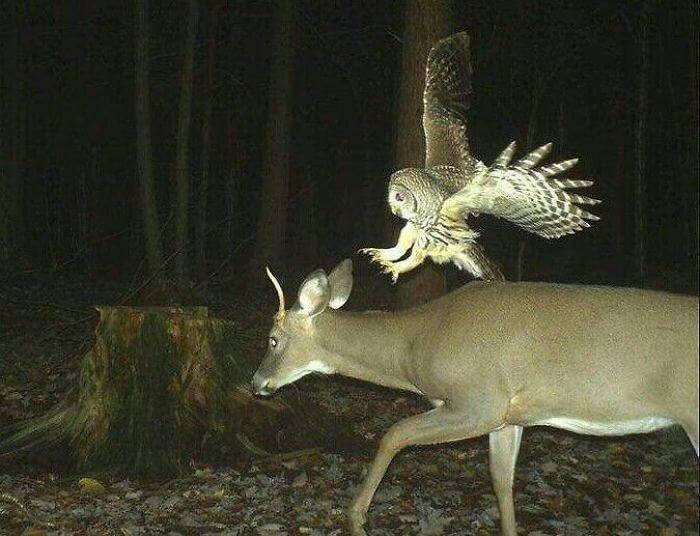 We don't think this is going to kill the deer. But it could result in some very painful tears and scratches. Crazy bird, is there nothing else on the menu, today?
A Real Haunted House
Haunted houses are attractions we pay to see on Halloween. We know they are fake, but we like the planned gore. Some people claim that real haunted homes exist out there, and we have to admit that we are skeptical. If not for this video, we might have no doubts. But after this story, maybe we have an itty bitty one. What's the story that changed our mind, posted on Reddit?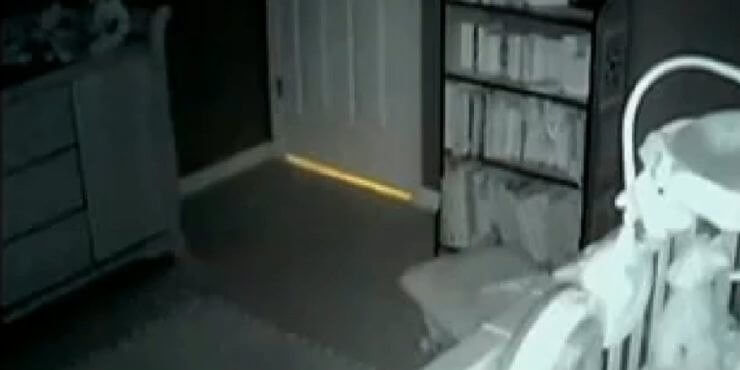 The story: A couple put their child to sleep and went to spend an evening alone in front of the TV. Suddenly, they heard something on their baby cam. When they went upstairs, all the doors and windows were open. What could possibly explain that?