They call it 'The City That Never Sleeps' for a very good reason. After all, who could find any rest in an ill-designed, sardine-can studio? The next time you feel like you're missing out on life in the Big Apple or just need a quick taste of dark humor, take a look at these overpriced death traps that pass for apartments. Then write a note in your gratitude journal about how thankful you are that you stayed far, far away.
All the Essentials
What's to complain about? This space has everything you need for urban bliss. It's wide enough to fit 3/4 of a twin-sized bed, so the intimacy process will be sped up considerably if your partner is brave enough to spend the night. And while it may not be big enough for kitchenware or a shower, it does have a few shelves. We guess whoever lives here has no choice but to be a minimalist.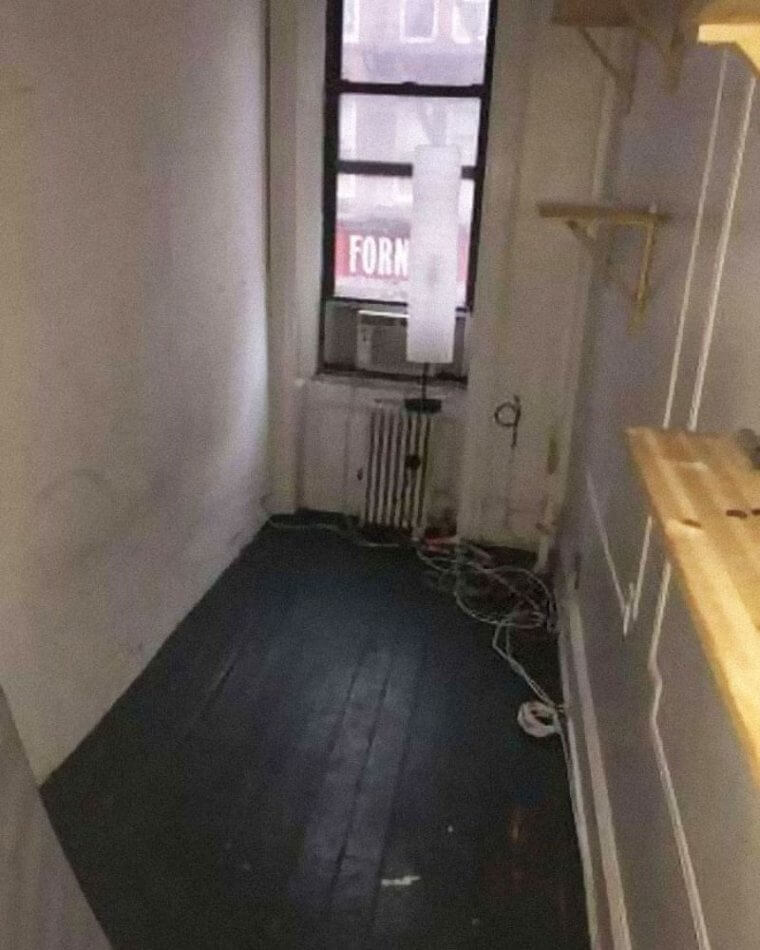 Seriously though, is anyone else alarmed by the fact that the lamp was placed on top of what appears to be the heater? That seems like a housefire just waiting to happen.
Who Needs Food Anyway?
While this apartment appears to be frighteningly small, its bizarre layout does have one clear benefit: Placing the fridge atop a bunk bed is a fantastic strategy for eating less. Really, why bother with some radical lifestyle change? Just keep your food far out of reach. Then anytime you feel hungry, your desire to eat will be overcome by the total inconvenience of having to climb for your meals.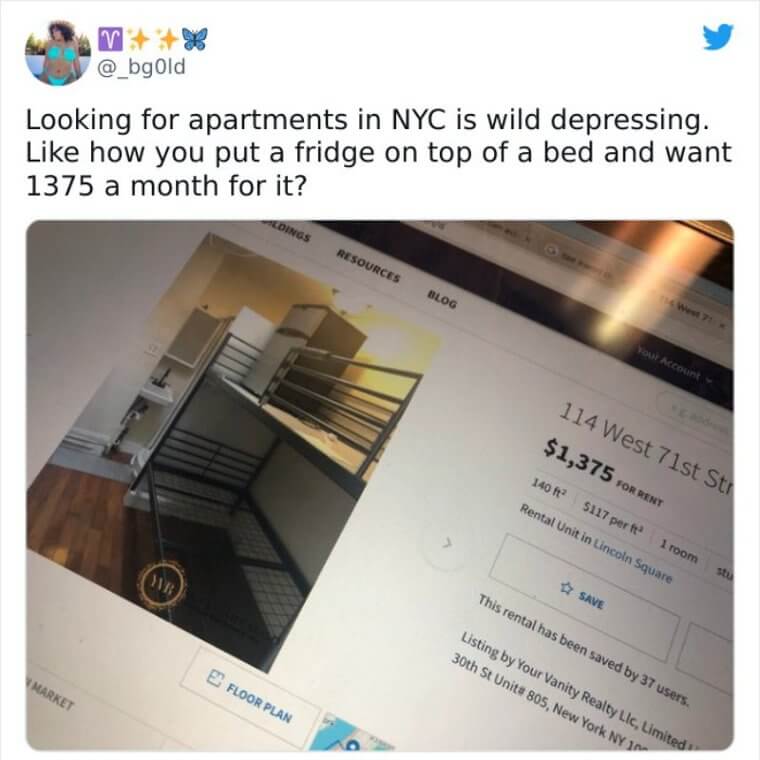 However tiny the studio might be, the claustrophobia might be worth suffering through for its great location. It's a 5-minute walk from Central Park and just a short distance from Juilliard. Maybe its tenants could simply spend a lot of time outside?
Two Extra Roommates
Mice are known for being remarkably adaptable creatures and can survive in a wide variety of environments, including forests, grassy fields, and of course, urban structures. But this apartment was apparently so unbearably awful that even these hardy animals couldn't handle it, choosing to flee behind an electric outlet rather than sleep in what must have been one awful living room. They probably should have stayed outside, no matter how cold the New York winter was.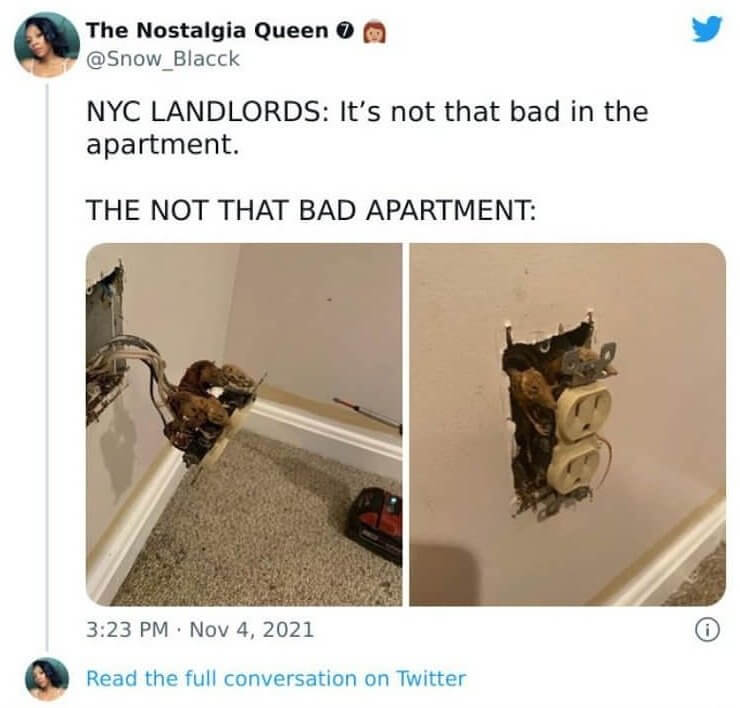 It can be difficult to find an apartment in NYC that will allow pets. But a photo like this might at least convince this poor tenant's landlord to permit a cat. That would solve the mouse infestation quite quickly.
Hardly Soundproof
Choosing to share a studio with a roommate may be highly cost-effective given the housing shortage in NYC, but it comes with a number of privacy issues to work out. And though this particular solution is creative, it has a few inherent shortcomings: A light gust of wind could easily knock the improvised wall of Ramen down; it may provide privacy visually, but it won't block sound; anytime the person sleeping here turns their head, they're reminded of the depressing fact that they're using a Ramen pool floaty device as a wall.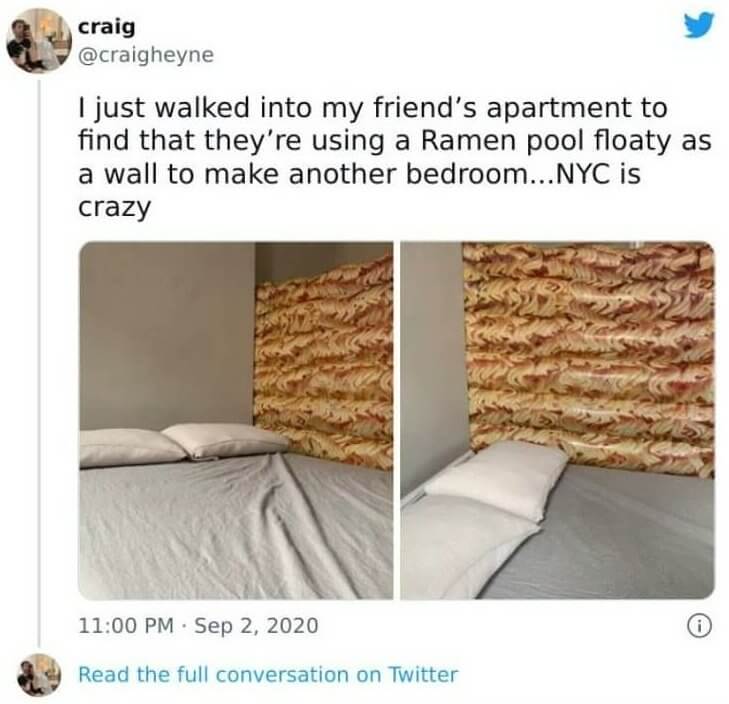 Let's just hope the poor soul sleeping in this nook doesn't wake up hungry in the middle of the night and confuse the plastic noodles for the real thing.
Don't Judge a Book By Its Cover
Nothing says New York like a charming brick building punctuated by falling autumn leaves. Actually, the only thing more iconically New York than that is when said building's interior has absolutely no connection to its picturesque exterior. The outside looks like the perfect place to come home to on a chilly autumn day; the inside is so inadequate that you might seriously consider sleeping on a bench the minute you walk in the door.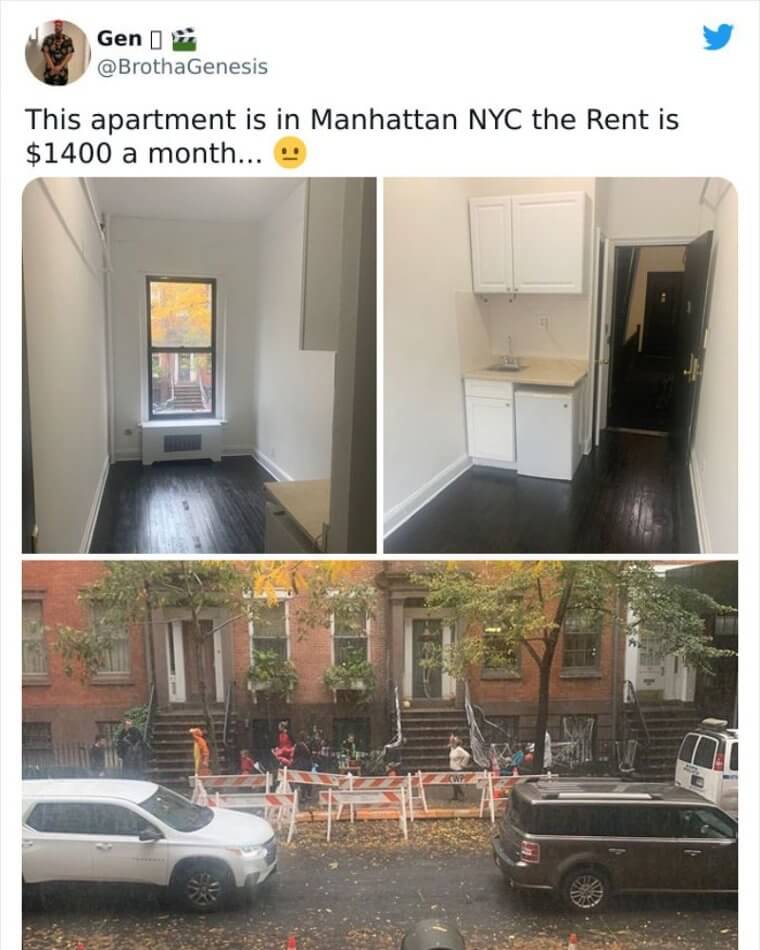 The two-sided perspective of the interior photos indicates that there's not even a bathroom in this sad space. Welcome to New York!
Not for the Modest
The general definition of a studio would be an apartment in which a living room, bedroom, and kitchen are merged into one single room, with a bathroom in its own separate, small room. But the owners of this space didn't get that memo. There is, however, one advantage of this otherwise awkward arrangement: If you're short on time, you can always hop in the shower while cooking dinner. All you have to do is peek out occasionally to make sure the pot on the stove doesn't overflow.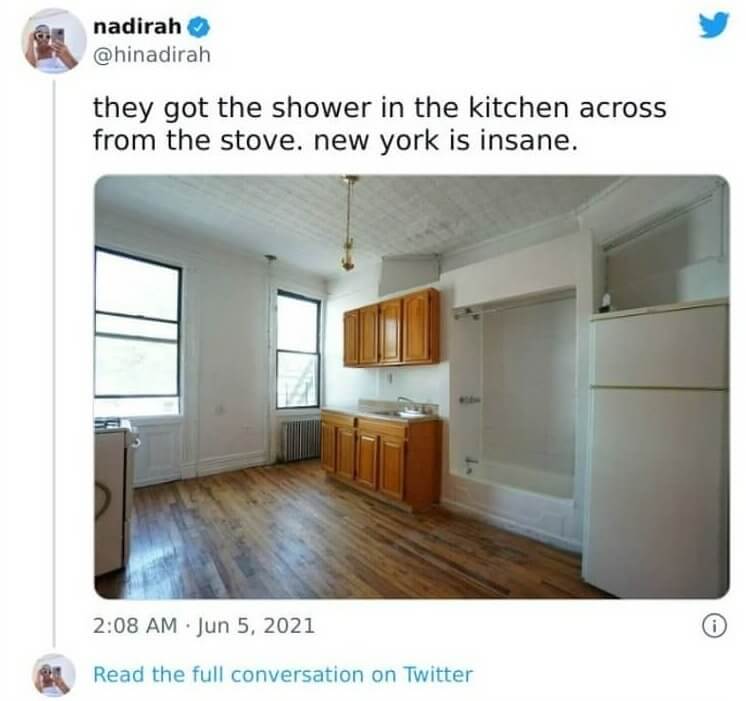 The poor tenant here will certainly have to avoid showering while they have friends over unless said friends are very intimate companions. It's probably best not to wonder where the toilet might be.
A Room With a View
There is nothing like relaxing in front of a classic city view after a long day of work. Too bad hardly anyone can actually afford a decent view. But this apartment takes it to a new extreme. It's not just an ugly view; it's literally nonexistent. This home's window faces a brick wall. And we don't mean a brick wall that is standing a few feet away. We mean a brick wall that literally covers the window.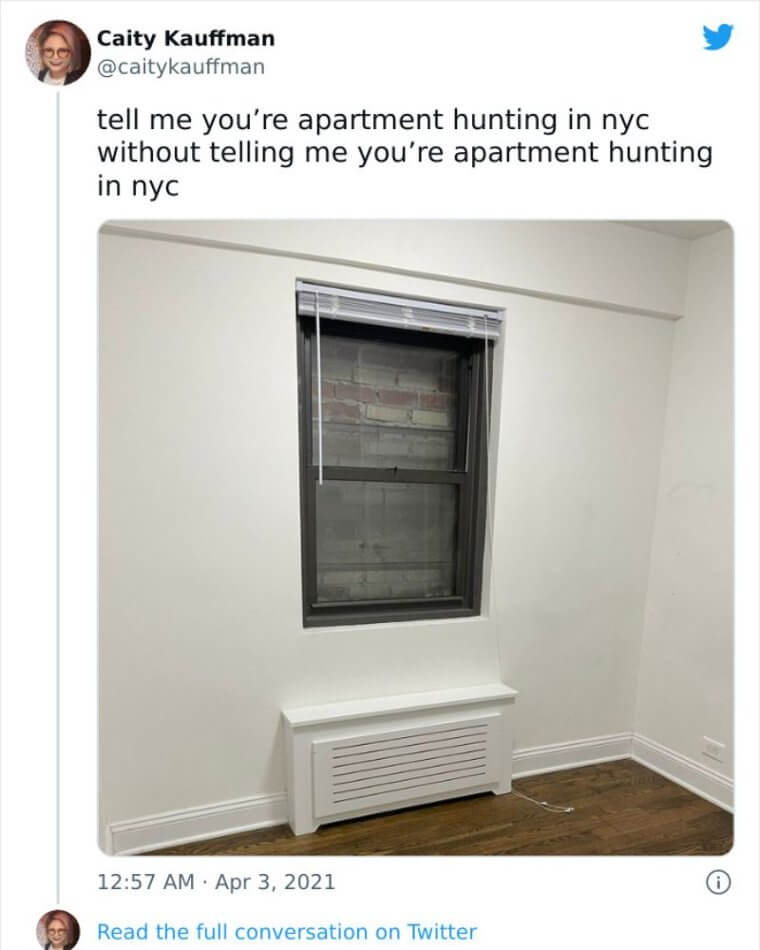 Leave the depressing brick wall aside for a moment: How exactly is this apartment ventilated? What happens if you want to cook something with a strong smell?
Just Order In
A lack of square footage isn't always the biggest issue to overcome in city apartments. It's often the absurd use (or misuse) of space that makes you want to bang your head against the wall—or, in this case, against the fireplace. Everything here is just completely out of order. What's being used as the kitchen space should at most be a closet. And hello, the romance of a nice fireplace is completely spoiled when you can't even access your oven.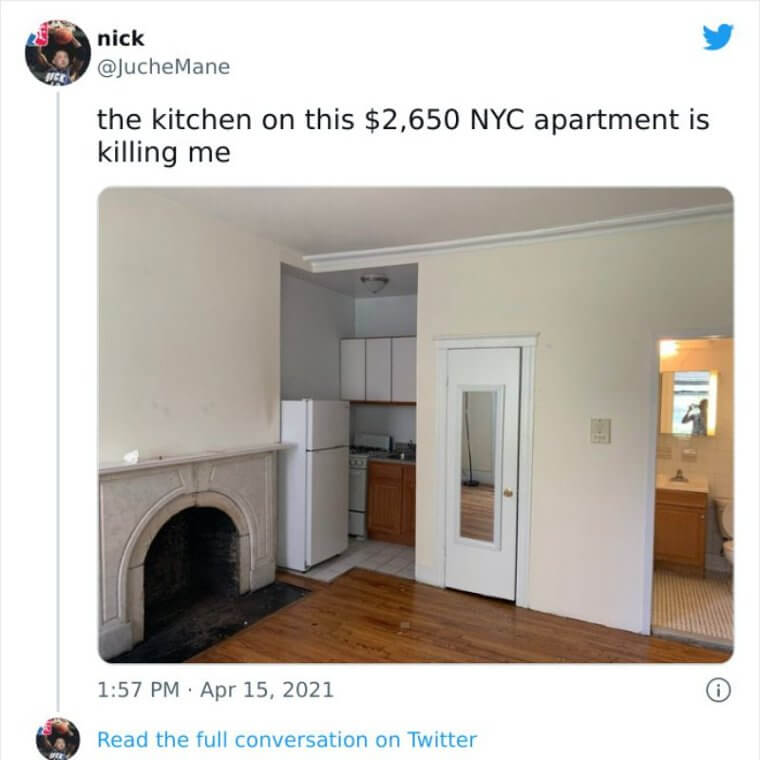 There is one clear benefit worth noting here: It's a really great value for those who particularly love to make smores all the time. Why go camping when you have everything you need here?
Call It Cozy
It's difficult to really gauge an apartment's size via photos because, of course, everything is relative. Perhaps the guy pictured is enormously tall, and the space just looks cramped by comparison? Or maybe this is just the entrance to the apartment, and the unseen living room, kitchen, and bathroom are wide enough for an actual person to live in? Then again, knowing this is New York, you shouldn't hold your breath.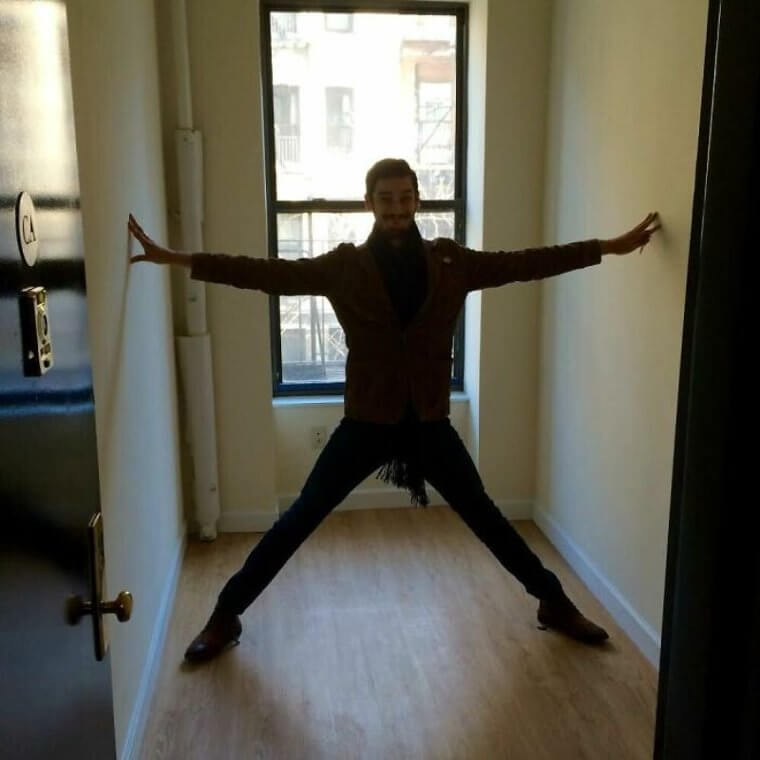 No wonder he's smiling: He just found the perfect home—for a moderately-sized shoe collection. Or maybe a small dog.
Guess the Living Room Shower Doubles as a Kitchen Sink
It's one thing if an apartment doesn't come with a refrigerator—that's not necessarily a guarantee even in the more sane non-NYC housing markets. After all, the renter can always buy a mini-fridge at a relatively affordable price. But a missing kitchen sink? That's beyond offensive. How exactly are they supposed to wash their dishes? Fill a large bowl with hot water and soap them up in the shower? Maybe that's why they put the shower in the living room.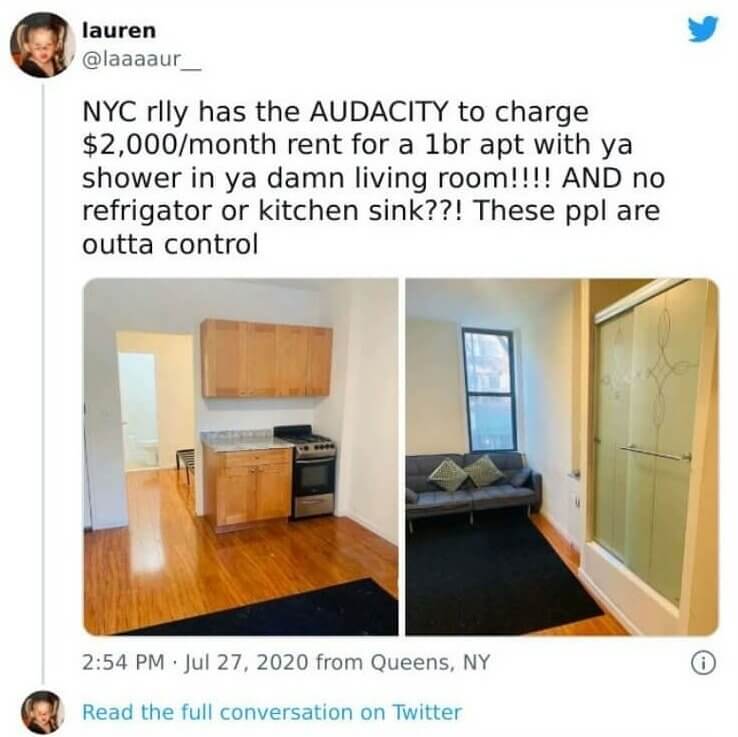 At least the shower door provided here is reasonably elegant compared to some other janky, shower-in-the-living-room scenarios. In New York, every detail makes a difference.
Closets Are for Clothes, Not People
Most people who complain about their 'closet-sized apartments' are in all likelihood exaggerating. But the unfortunate inhabitant of this space would be speaking quite literally. It's certainly not the right cost-cutting measure for anyone who suffers from even a trace of claustrophobia, but it may be a decent arrangement if you have a very valuable collection of clothes and shoes that you want to keep eye on at all times.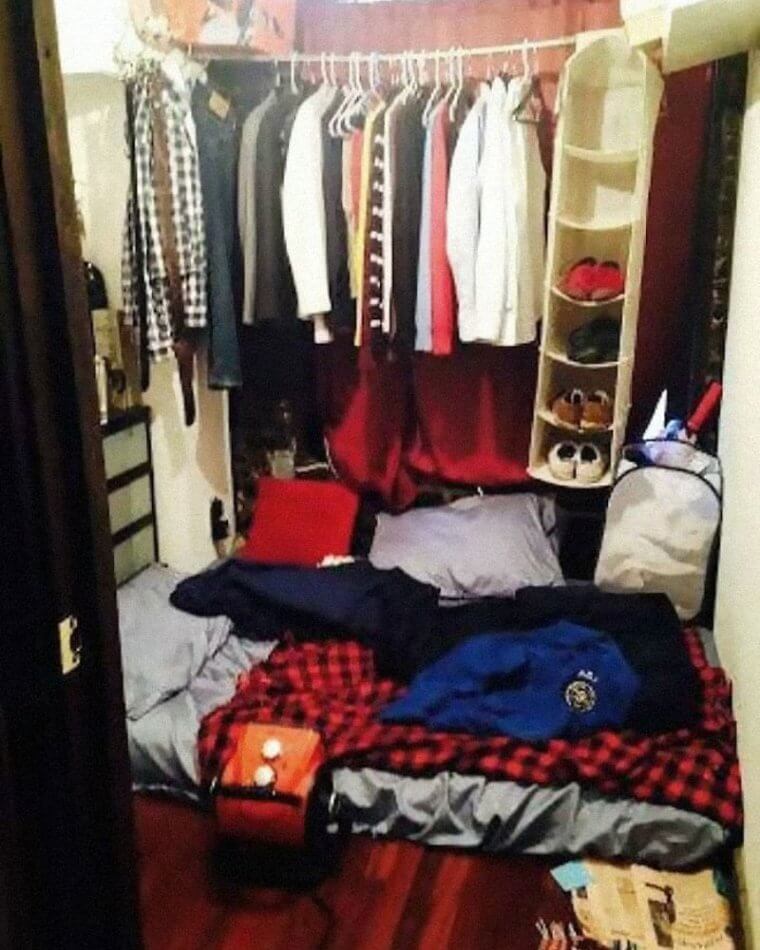 Hopefully, this photo was taken when a guest was set up with a temporary bed here for the night. It's hard to imagine this as a long-term arrangement for anyone, no matter how desperate.
The Real New York City
When people dream of living in New York, they might imagine waking up to a perfect cup of coffee with a view of the Manhattan skyline or watching people stroll through Central Park in early spring. Of course, the reality for the vast majority of those who actually live in New York is slightly different. If they're lucky, they might have a charming view of neighboring buildings (close enough to touch); if they're unlucky, they won't have any windows at all.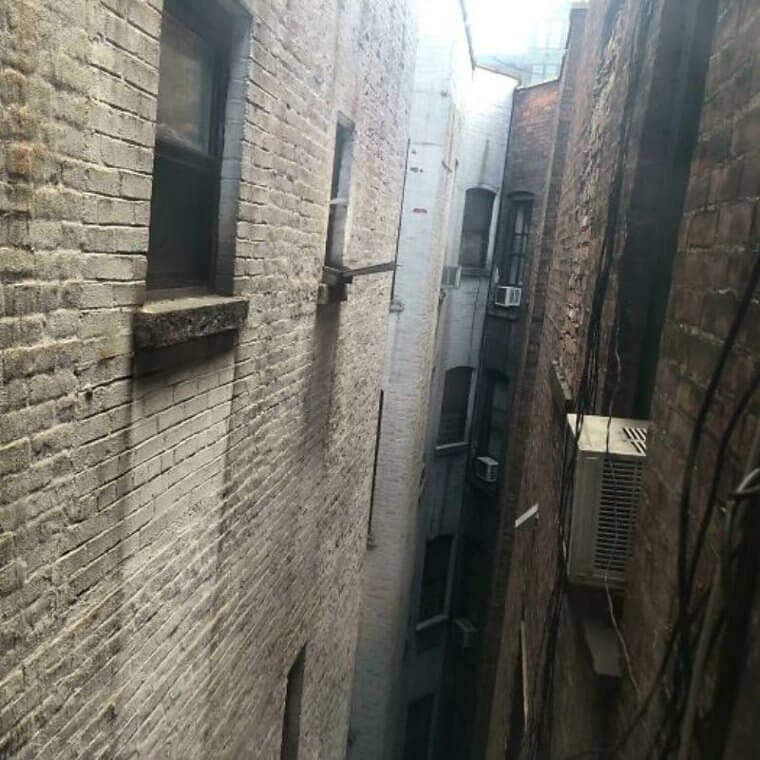 There is one notable perk to having this creepy ally as the view from your apartment. Maybe one day you'll get a glimpse of a big-budget movie set, provided the movie is filming, say, a murder scene.
Dinner Theater
Some might find the prospect of bathing in front of a table of diners to be a bit uncomfortable. But let's be fair and point out that most of the essential amenities appear to be covered here, which is hardly a given in New York. Any previous concerns you had about semi-public bathing go away when you have a working fridge, stove, oven, and kitchen sink. That is until you remember the $3,100 monthly price tag.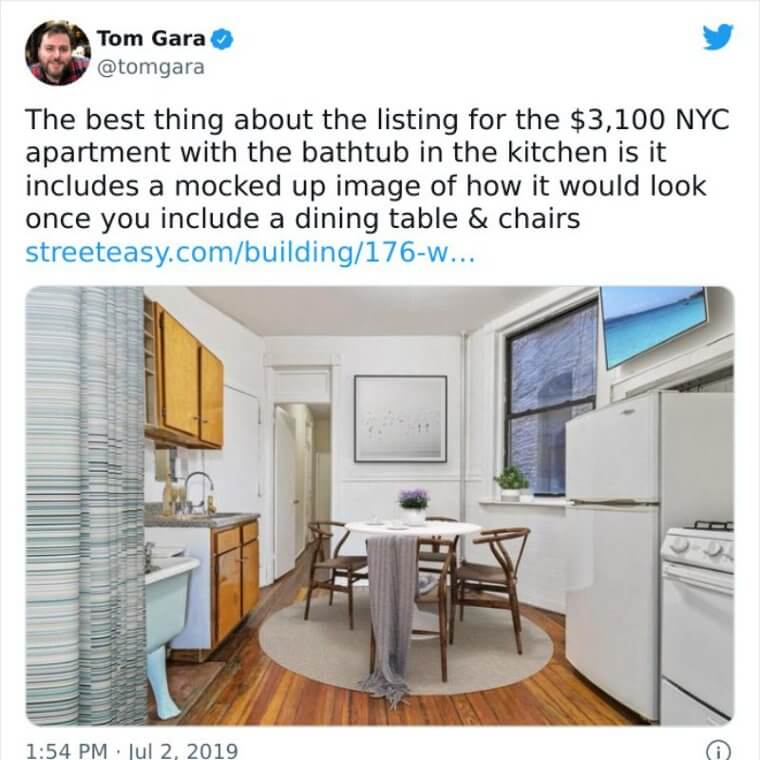 Aside from the total lack of separation between the bathtub and kitchen, the bathtub itself is a bit odd. Why's it elevated some two feet off the ground?
A Very Pricey Sink and Mini-Fridge
Everyone has different values when it comes to their living quarters. Some might prioritize a roomier place with a lot of square footage; others might value having a well-furnished space that covers all their basic needs, and some might be willing to overlook a lack of space and living comforts for a super-low price point. But what if you're asked to pay a premium price for a tiny apartment that shares a toilet with other tenants? No. Just...no.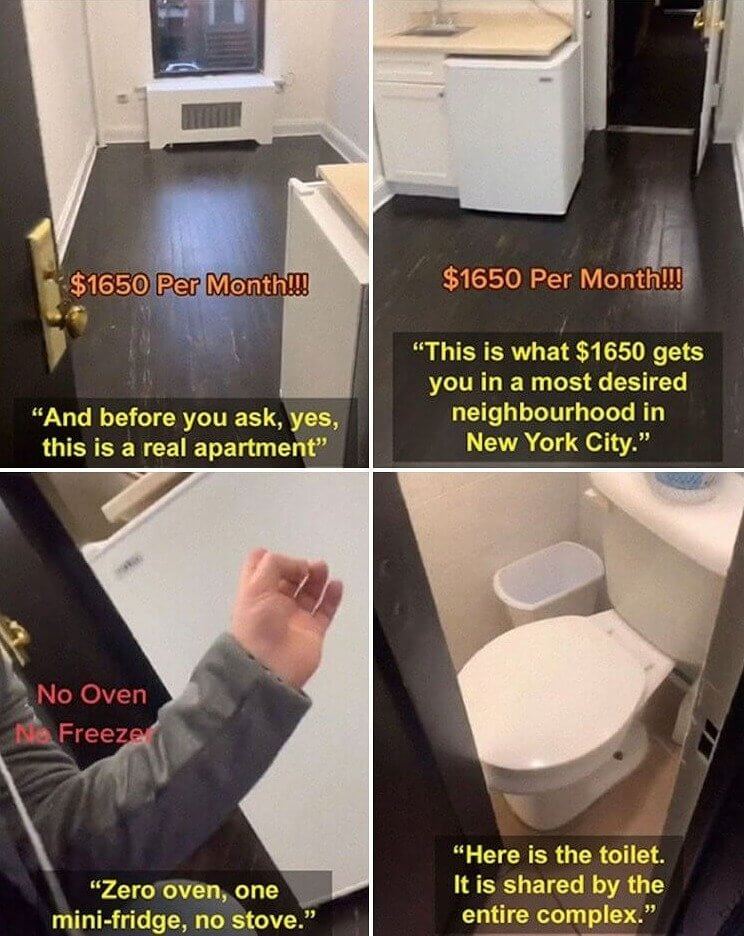 That's what this person almost did: high rent for a tiny room with a mini-fridge, no stove, no oven, and a shared toilet. New York is brutal.
Mystery Doors
There's a lot wrong with this photo, the most obvious issue, of course, being a doorknob situated half an inch above the floor. Who exactly is that designed for? Mice looking to get in and out? And speaking of providing convenient access to vermin, New York is really not the place where you want an unevenly positioned door that leaves plenty of room for little critters to sneak in and out. Finally, wood flooring can be lovely, but not when it looks on the verge of falling apart at any moment.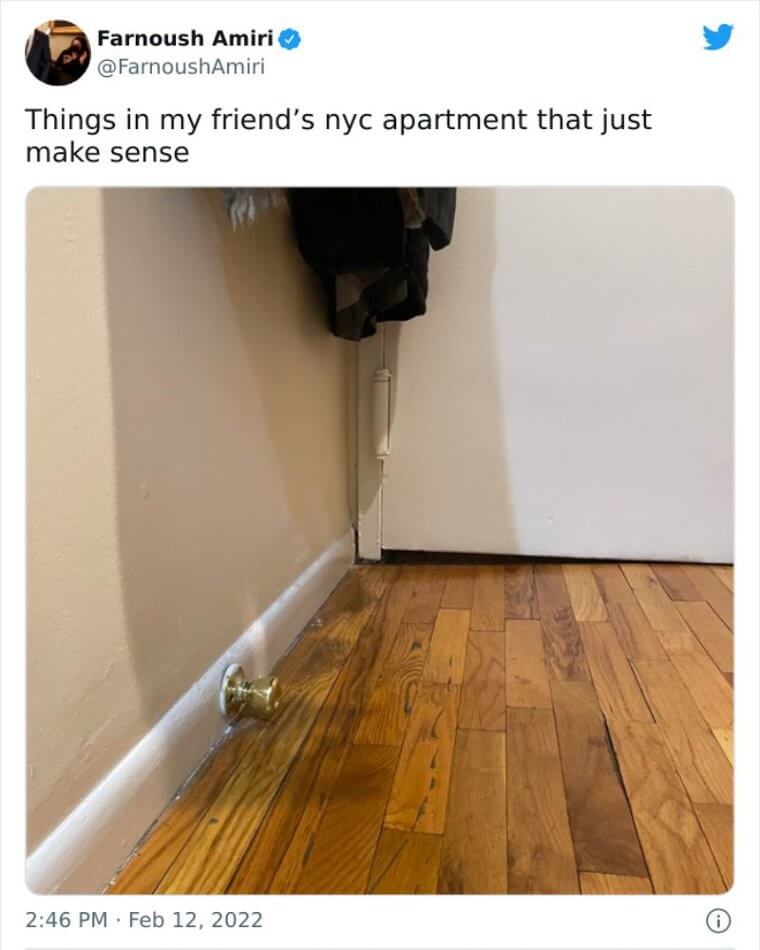 How many of this apartment's renters tried to turn this knob out of sheer desperation at some point, wondering if it might magically lead them out of the hell that is NYC housing?
Mind Your Shins
By normal world standards, this is a dreadfully cramped kitchen that would drive any chef to insanity. But by New York standards, this is magic since they have both a dishwasher and an oven. And what's more, if you ever catch a burglar stealing some of the spices from the kitchen, all you have to do is pull down both the oven and dishwasher doors simultaneously. He'll trip and injure himself with no space to walk, and then voila, crisis averted!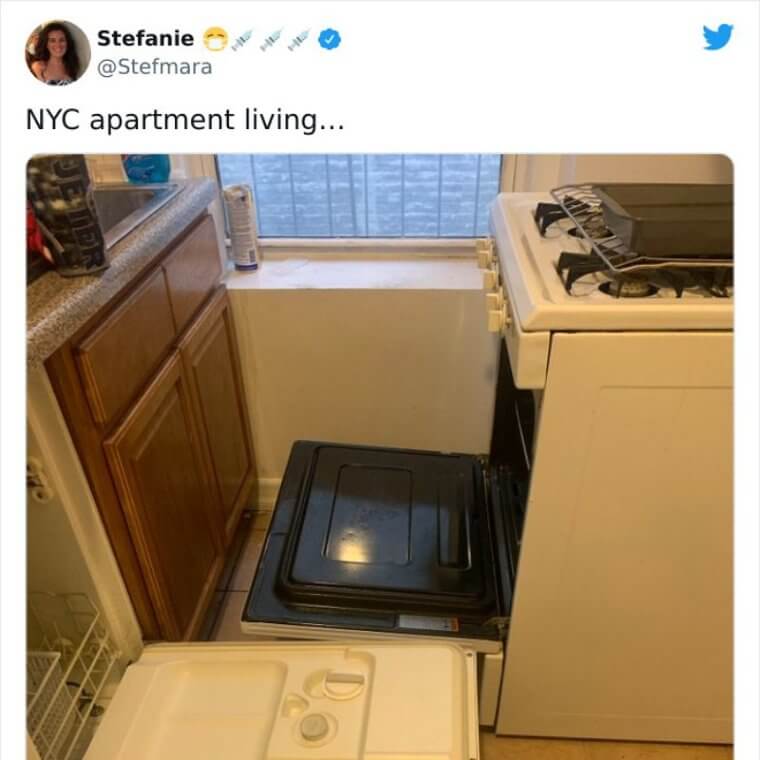 Really, having two appliances in the same NYC kitchen is almost suspiciously luxurious. Surely there's some major flaw to this apartment not included in this photo, like the classic shower in the living room.
Shorter People Need Not Apply
This is actually a pretty decent college dorm room! Oh, wait, it's supposed to pass for a studio apartment priced at $1,420 per month? Tiny bathroom aside, what really puts this space over the edge of absurdity is the positioning of the microwave. If you want to reheat something, you need to either bring your plate of food up to the top bunk bed and reach around, or maybe stand on a chair.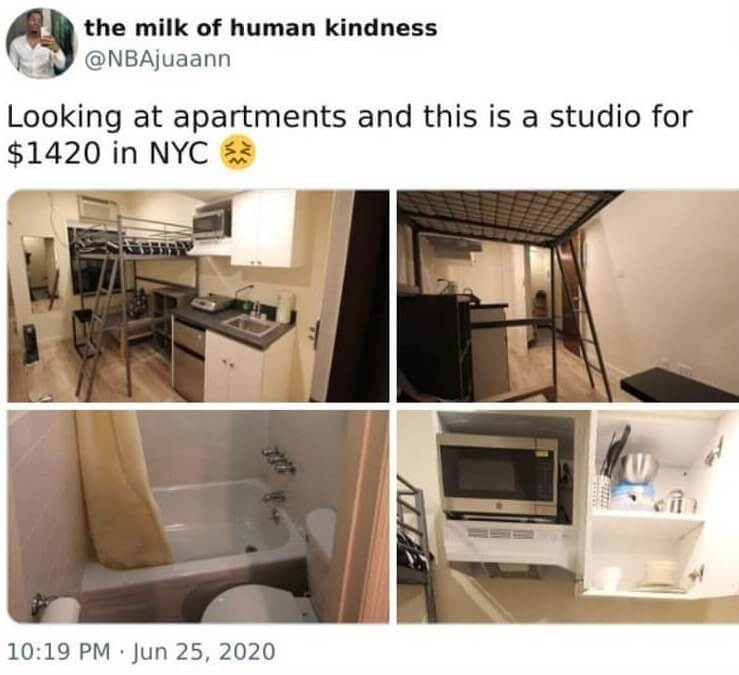 Then again, the microwave might not be such a disaster for everyone. For instance, professional volleyball and basketball players should have no problem with this scenario. But then again, they'd probably be too tall for the tiny bed.
Nylon Is the New Brick
Exposed brick reached its peak as an interior design fad in the 1970s, but it still comes and goes today. It can lend an industrial and historical quality to a room, and some see it as a refreshing break of texture and color in what might otherwise be a very sterile home environment. Unfortunately, the use of cheap green nylon hasn't enjoyed the same popularity in the design world, and its depressing use here won't help its cause.
If the green fabric was draped there in order to cover something up, doesn't that just make everyone more curious to see what's behind it? The other possibility is that it's serving as an actual wall or separation barrier with another room, which is even sadder.
Lots of Foot Traffic
Paying $600 per month for a bedroom is actually a pretty good deal in New York. But what counts as a bedroom these days? Can anything be a bedroom if you simply place a bed and a mirror there? What if said 'bedroom' is actually a corridor where other people regularly walk to get from one part of the apartment to the other? In that case, said bedroom is best for deep sleepers and/or highly social people who don't like to be left alone. Ever.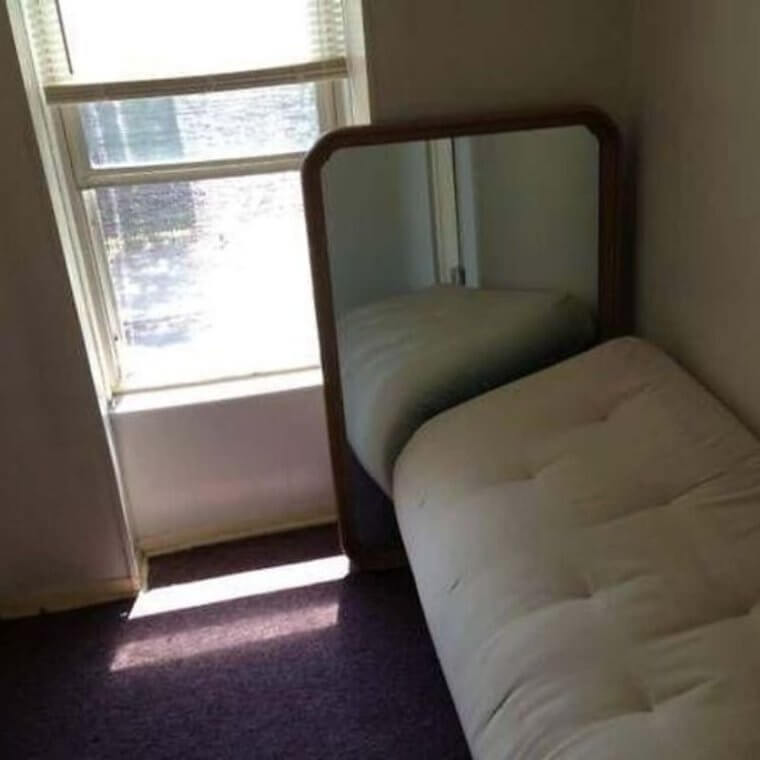 Perhaps the thrifty occupant of this hallway corner could at least put a sign up kindly requesting passersby always tiptoe rather than walk through this modest living space.
Please Don't Touch
No apartment is absolutely perfect, and unless you're working with unlimited financial resources, you'll likely have to compromise on something when you search for decent housing in New York City. The square footage might be underwhelming, the use of space might be confusing, or it might lack certain amenities that would be convenient to access — but exposed electrical circuitry? No. Don't compromise on that. Just run as far away as possible.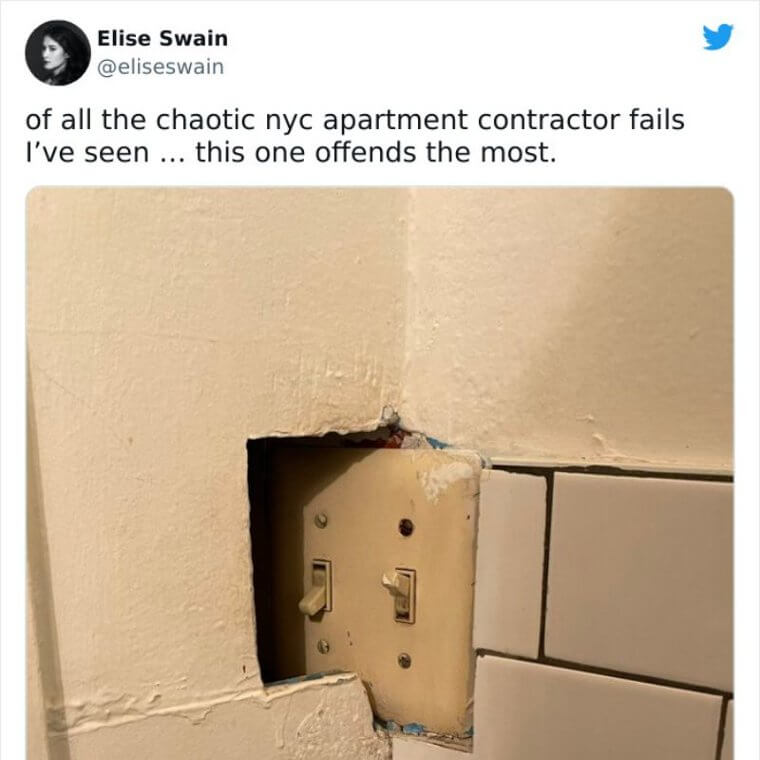 And after running away, consider reporting the landlord to the New York City Department of Buildings for what appears to be a violation of some kind of construction code.
Anything but Beige, Please
True, there's not much to work with in this tiny, semi-private space. But why make matters worse than they already are? They could have draped anything from the ceiling to block off their room from the living room, and somehow they chose the cheapest, most wrinkle-prone, depressing fabric ever created. And being on a budget is no excuse! Just go down to the thrift store and look through the bargain bin.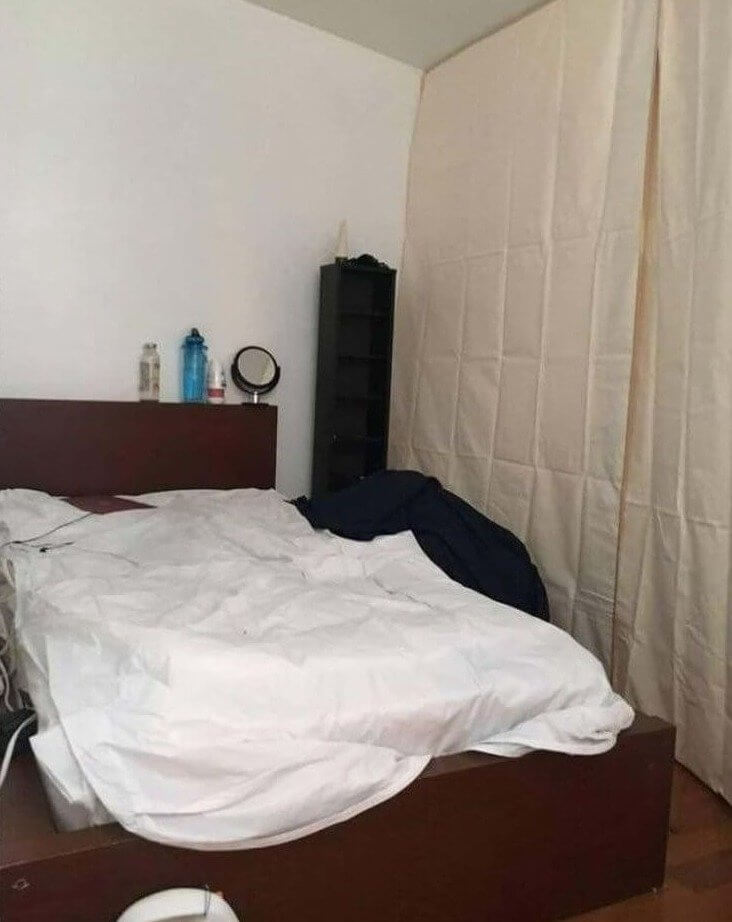 And while they're at said thrift store, try to find some kind of poster or picture frame to hang behind the bed. White walls are wonderful for psychiatric hospitals; they won't make anyone feel better if they're already depressed about housing prices in NYC.
Why Is This a Thing?
See something once, and it might be a fluke. See something twice, and it might be a coincidence. See something three times, and it's probably already a trend. But of all the interior design trends in history, this is perhaps the most unwelcome. No one wants to shower in the same room where they cook food. No one. Would it be so difficult for the owner of this apartment to add a simple glass door here?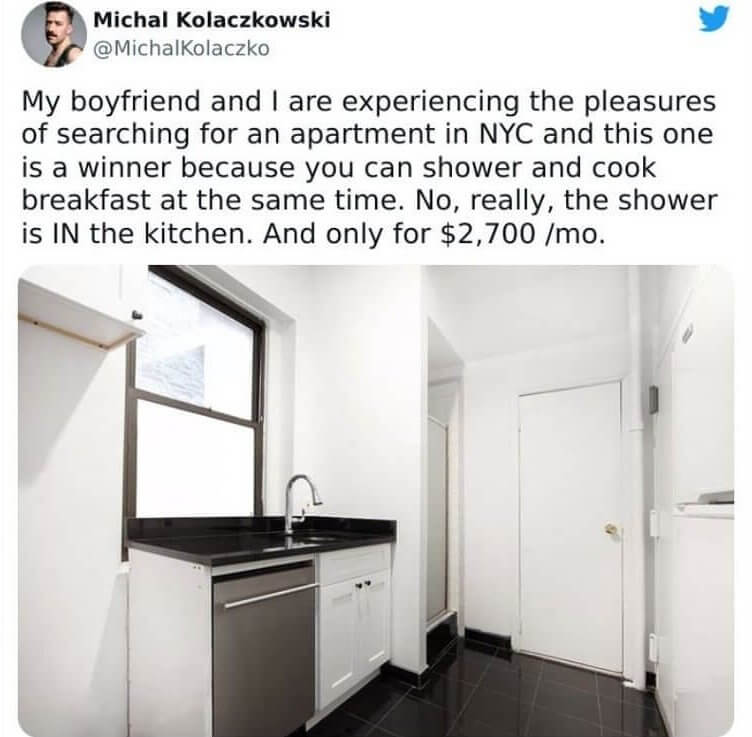 Offensive misuses of space aside, it is worth noting that the shiny black tile at least gives the place a very clean and modern feeling. But that doesn't make up for its primary flaw.
Minimalist Approach
Seven by five feet would be pretty tiny for a single bedroom. But an entire apartment? Most twin mattresses are a bit bigger than six by three feet, which doesn't leave much room for anything else in this space. It's certainly a project for a minimalist if there ever was one; maybe they could throw out enough of this renter's possessions so that they could live comfortably between these four (very close) walls.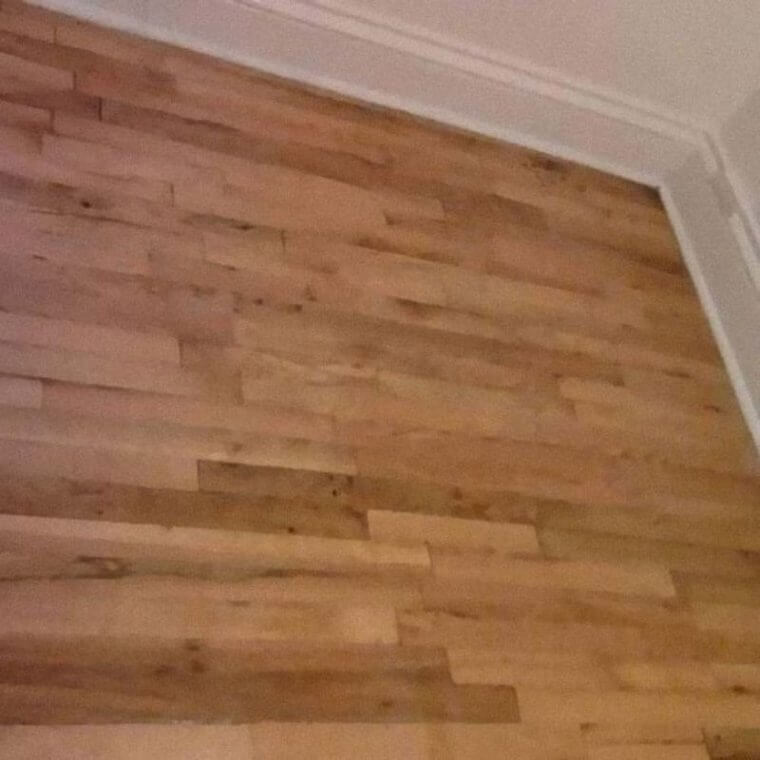 Sadly small though it may be, at $700 per month, it's at least one of the cheapest options you'll find in the area.
At Least It's Well Insulated
While some might find this sleeping corner to be unbearably cramped, an optimistic person might choose to instead focus on its numerous advantages. The chances of falling out of bed and hurting yourself are slim to none, so it might be an appropriate solution for those who suffer from night terrors. Furthermore, all of your possessions are at arm's length, which considerably reduces the number of times you'll have to inconvenience yourself by getting out of bed.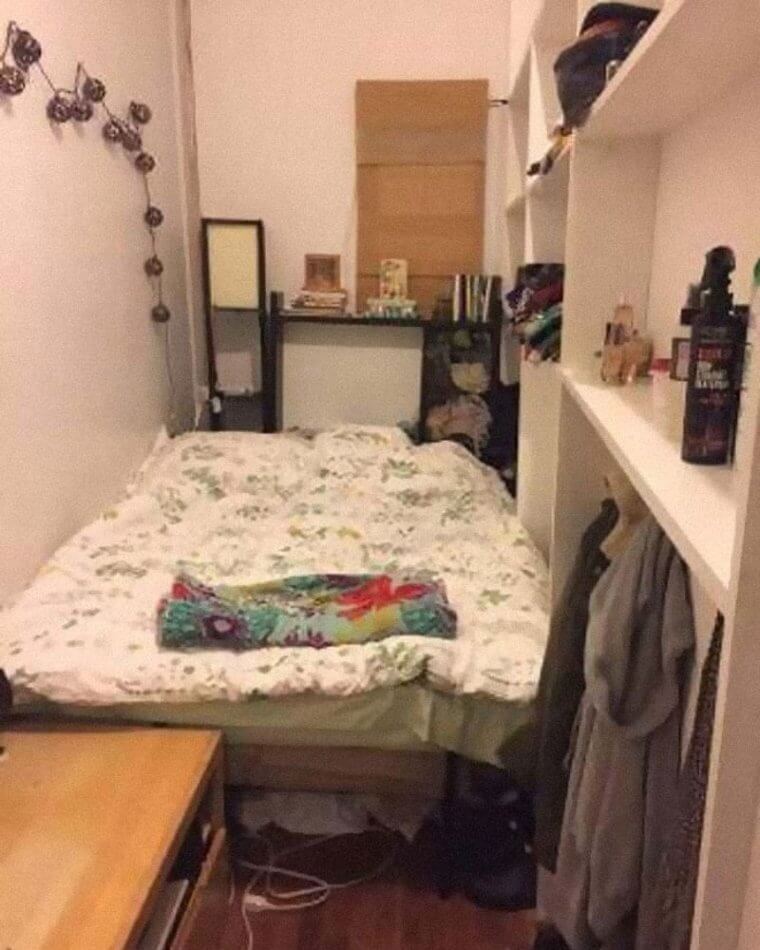 And here's yet another perk of this setup: It's tightly enclosed on three of four sides, so the chances of the space becoming drafty and cold during a New York winter are certainly reduced.
You're New Here, Aren't You?
You can always tell when someone is completely new to New York. They probably pronounce 'Houston' like they would the city in Texas, live in constant fear of being mugged, and are too afraid to ask anyone for help using their MetroCard. Or they look at a relatively minor inconvenience, like a washing machine in a kitchen (gasp!), as a dealbreaker for an apartment. Clearly, this is her first apartment hunt in the city.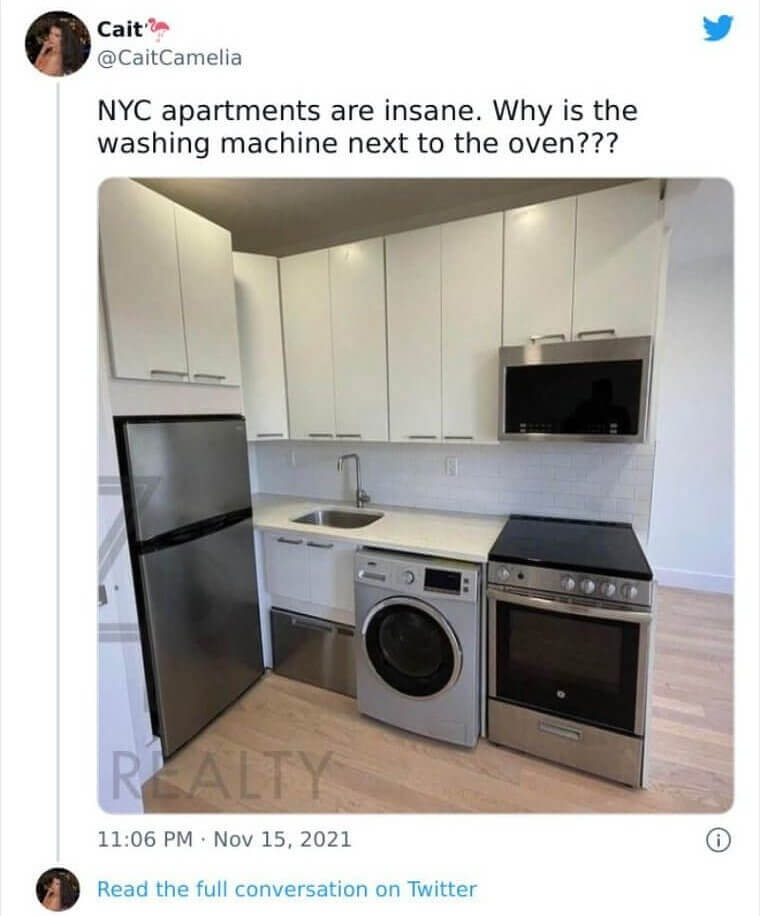 Be thankful that you won't be washing your clothes by hand in a sink. And then be thankful that you have a sink.
That's Not a Kitchen
Definitions of what exactly qualifies as a 'kitchen' might vary broadly, but this setup is a stretch. Most kitchens are expected to have a slightly larger stove range and at least enough space for, say, a cutting board. There's no oven? Fine; this is New York, after all. But there should at least be room for, say, a toaster oven. At best, this is somewhere between a kitchen and a kitchenette.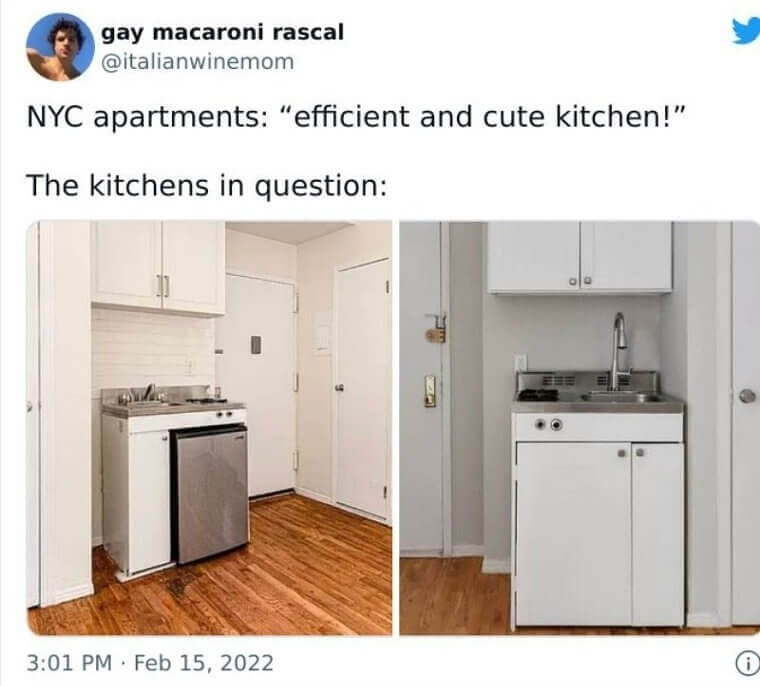 The advertiser also used the word 'efficient' very loosely. It's hard to imagine what kind of meals you could efficiently cook with only one stove burner and a sink at your disposal.
Invest in Shelving
Usually, if someone throws the word 'bedroom' around, it implies a room where you sleep, not necessarily a small cutout space where there's only enough room to sleep and nothing else. Hopefully, the unfortunate tenant here is crafty and creative; they don't have a lot to work with, but they could potentially make some use of the enclosing walls by adding wall-hanging shelves. Having some photos, favorite books, and mementos within reach will make this situation slightly less depressing.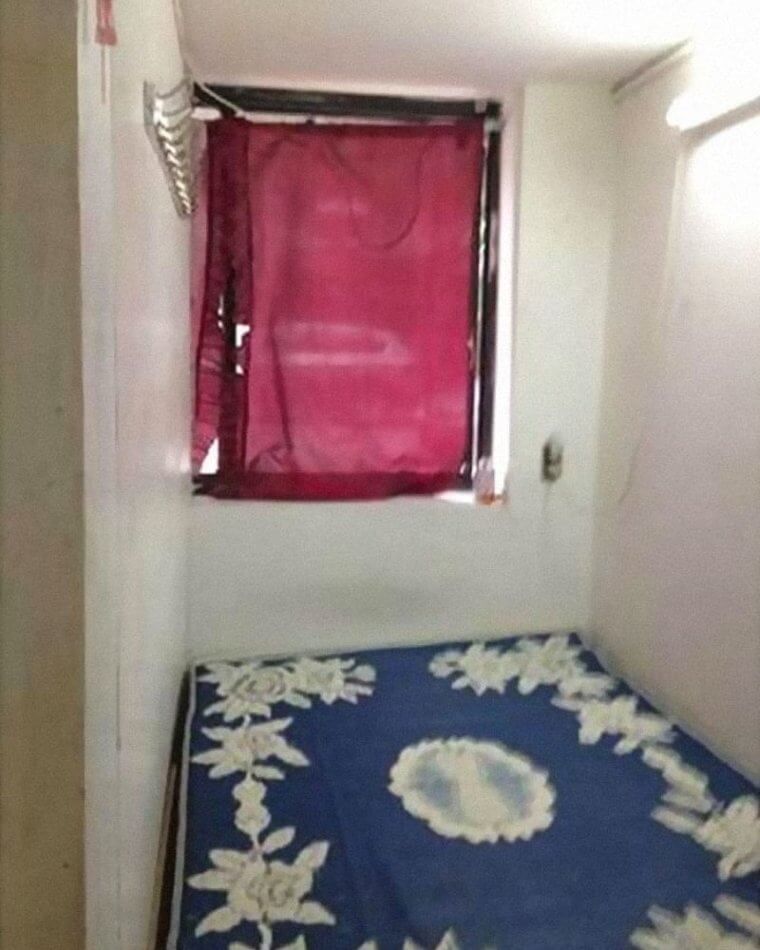 In cases where you're working with very limited space, some interior designers might also recommend adding character by hanging stuff from the ceiling, like light fixtures or potted plants. But in this circumstance, it might be frightening to sleep directly underneath that.
Basement Upgrade
Basement life isn't for everyone. Ventilation is certainly a challenge, there's no view of the world outside, and the complete lack of natural light can create a really dark mood. But a little color can go a long way, so kudos to this basement's decorator for bringing in the gold lamé curtains, shiny checkered bedspread, and a cool cover for the chair. All that's missing now is maybe one more rug, and we're well on our way to Morocco.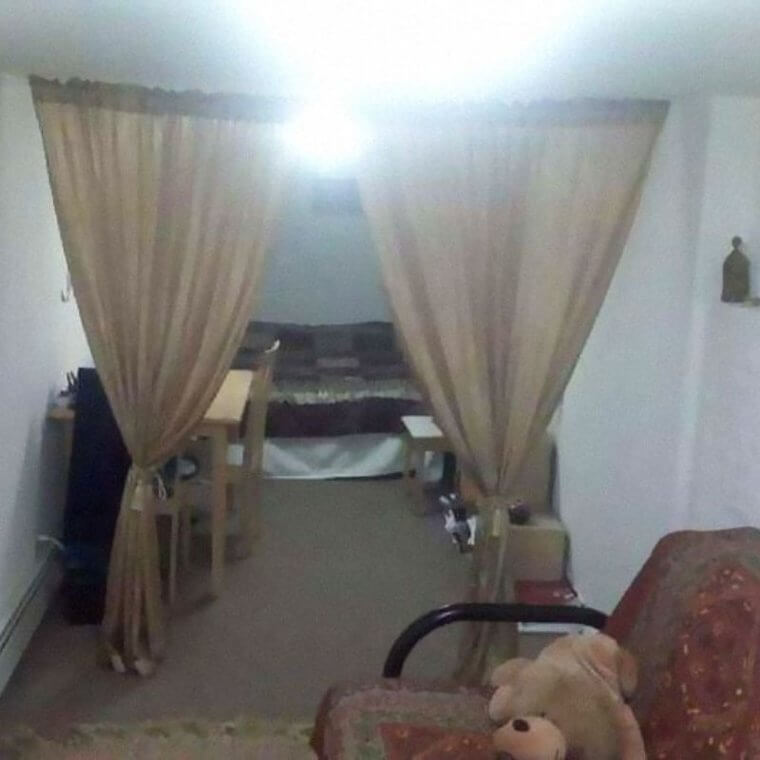 Actually, renting out someone's basement might be one of the best solutions to living in an expensive city on a budget — better a spacious, windowless basement than a cramped, third-floor studio.
This Makes Perfect Sense
Though a very thick column in the middle of your hallway might seem oddly placed, let's rethink this: It's perfect for leaning your tired shoulders against after a long, hard day battling the city outside. And you'll definitely need something to help you catch your balance when you stumble into your apartment following a night of bar hopping. It may be too bulky to use effectively as a stripper pole, but don't call it useless.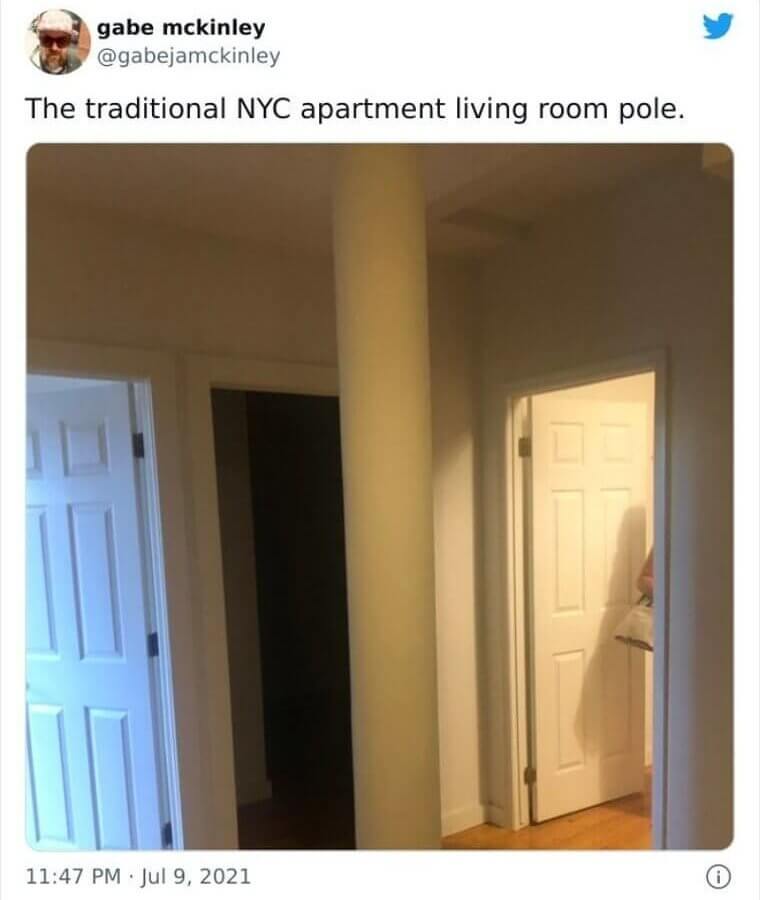 On the upside, a random pole in your apartment has a very 80s music video vibe to it. Throw in an acid wash denim jacket and some heavy blue eyeshadow, and you might get some regular airplay on MTV!
Not Exactly Artistic
The term 'artist's loft' might bring up images of an open, spacious room with funky furniture that spans decades of different design eras and plenty of natural light pouring in from multi-colored window glass. But in New York, an artist's loft is more likely to look something like this: Abandoned, unfurnished, poorly lit, and of course, probably absurdly priced. Better for an artist to just find some modest studio apartment to sleep in and then rent out a coworking space somewhere else.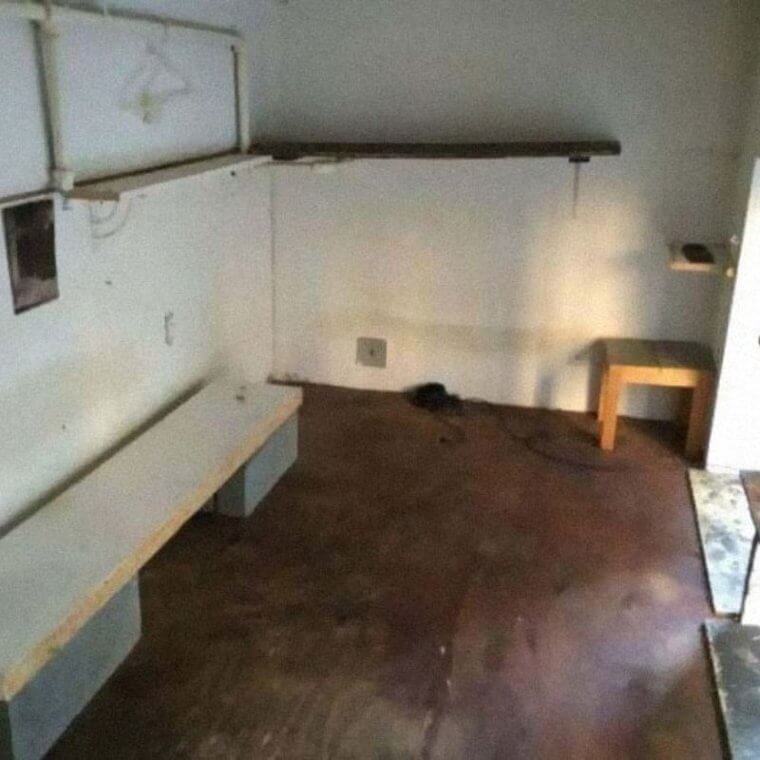 Really, this space could use a number of artists to undo what looks like years of neglect and transform it into something a bit more inspired. Nothing that a bit of ingenuity can't fix.
Isn't This Illegal?
What's the point of being in New York if you have to completely abandon any sort of living standard and break every known rule of sanitation to afford housing? Really, no city is worth this, no matter how glamorous it could potentially be in theory. Better to live with some small shred of dignity in a suburb or rural community—and occasionally travel to fun destinations like New York—than to deal with these substandard conditions.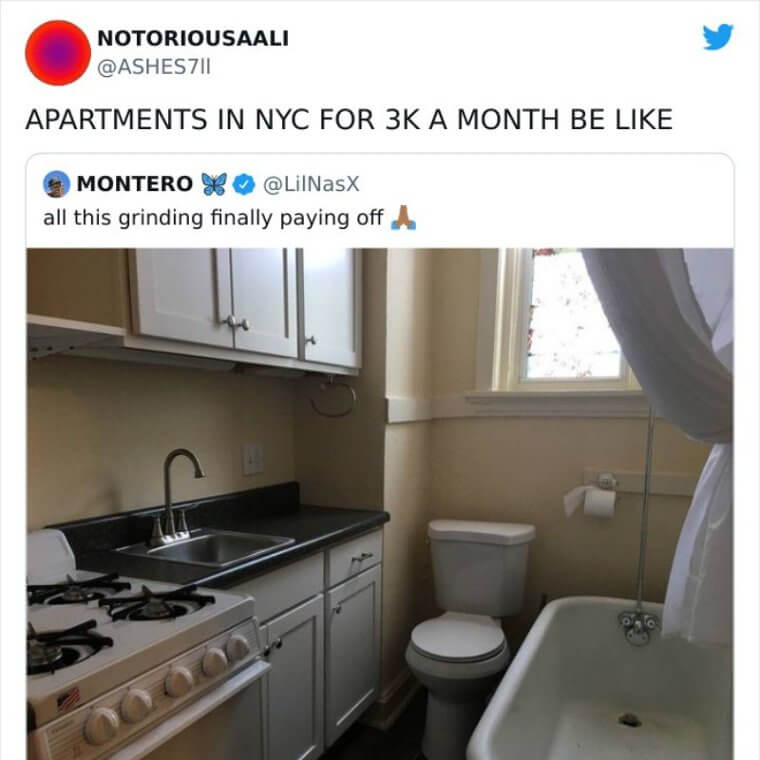 Disgusting as it may look, technically, this setup could be safe if its inhabitants are obsessive about cleaning and handwashing. But why take the risk?
Cramped but Complete
Would you rather have room in your small studio to stretch your legs a bit, or would you rather pack in as many appliances and conveniences as possible, however claustrophobic it might make the space feel? That's the dilemma facing thousands of New Yorkers, including this young man. He apparently made his choice, and it's actually rather impressive that he managed to squeeze in a microwave, mattress, sink, and full-size refrigerator.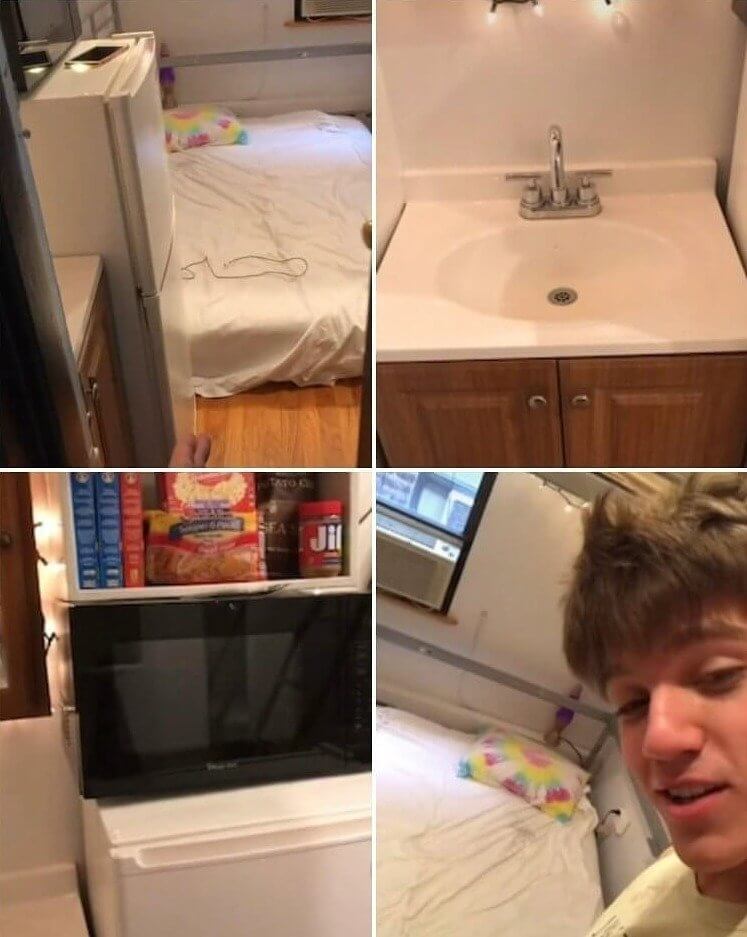 It's really a matter of access. If he's feeling cramped, he can always step outside his apartment building for some fresh air; but if one day he regrets not keeping his microwave, he can't just manifest it out of thin air.
A Little Perspective Goes a Long Way
No one likes to walk up four flights of stairs at the end of a long day, and it is a bit odd that a nice building in SoHo doesn't have an elevator. That said, compared to some of the other trainwreck New York apartments out there, this situation isn't so tragic. For starters, at least the shower and toilet are separated from the cooking area, which isn't a guarantee in NYC.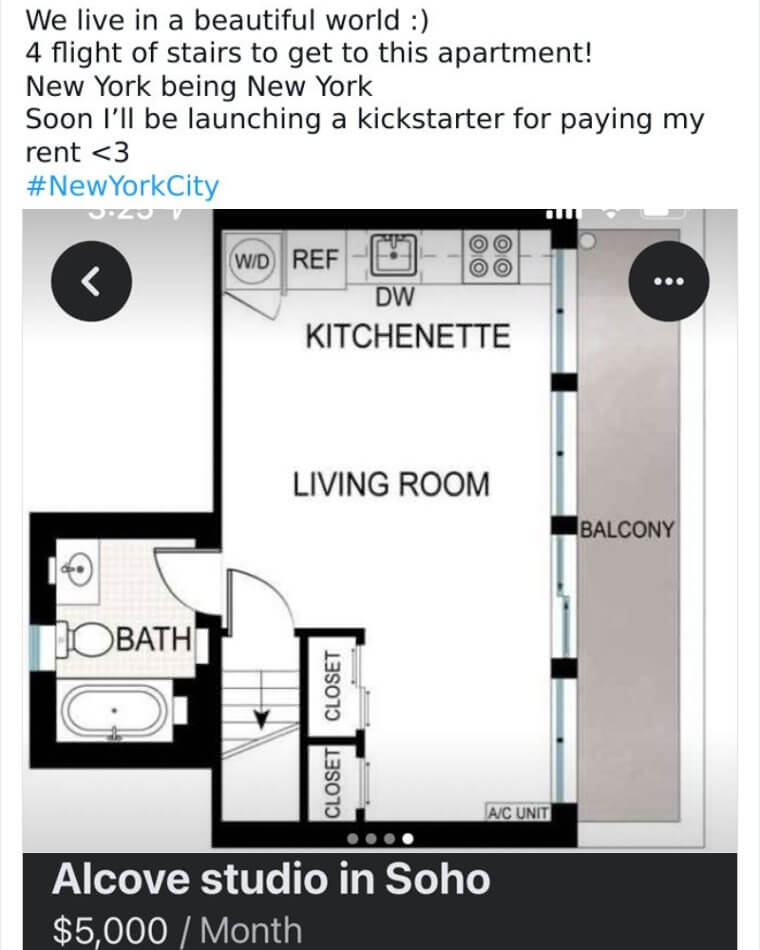 $5,000 isn't exactly cheap, but this is SoHo, after all. Considering both its location and amenities, it seems the tenant, in this case, is getting what they pay for.
Slightly Discriminatory
While this might be a convenient bathroom setup for some, it ignores the needs of about 50% of potential renters, for whom a urinal is quite impractical. And furthermore, what's up with this super narrow door? Do only rail-thin renters need to apply? Overall this arrangement gives the vibe that you're using a public restroom in the back of a budget restaurant, not a normal bathroom in the comfort of your own home.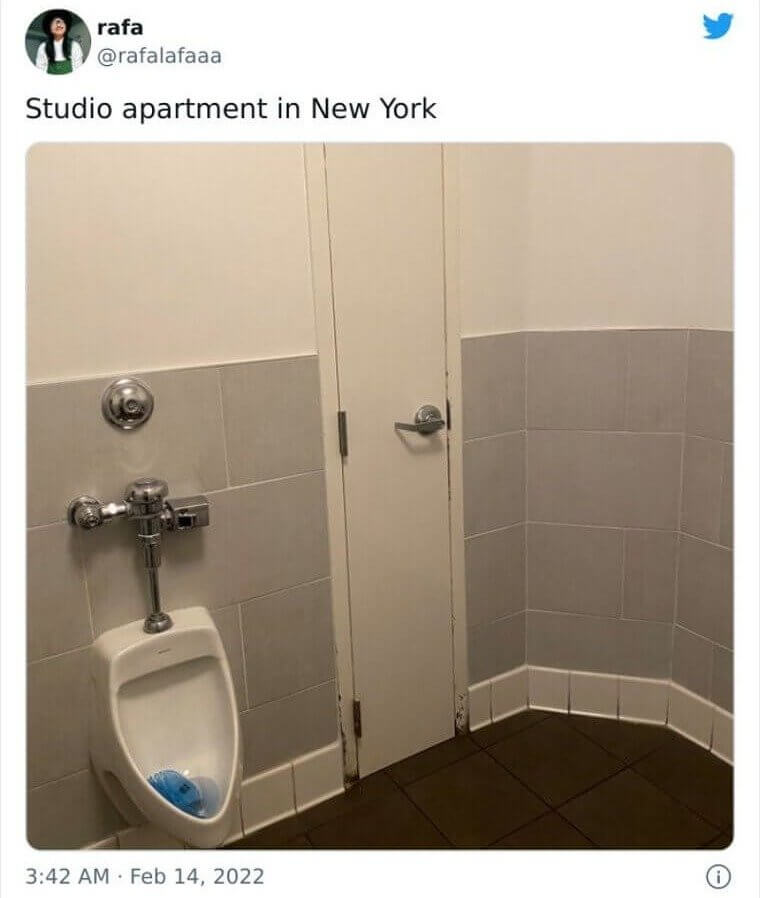 What's truly upsetting is that any normal person's reaction to this would be something along the lines of, 'That can't possibly be a bathroom in an actual apartment. It's a joke!' But in New York, who knows?
Kind of Like Summer Camp
Though this bedroom's lighting is totally unpleasant, and the bed base looks like it could be painful, it makes decent use of space. Whoever sleeps here has plenty of room to pack basically whatever they want underneath their bed. They could probably fit a number of suitcases, a dresser, mini-fridge, shoe rack, and/or a small sofa. If they ever have a guest over, they might even be able to fit another mattress down there.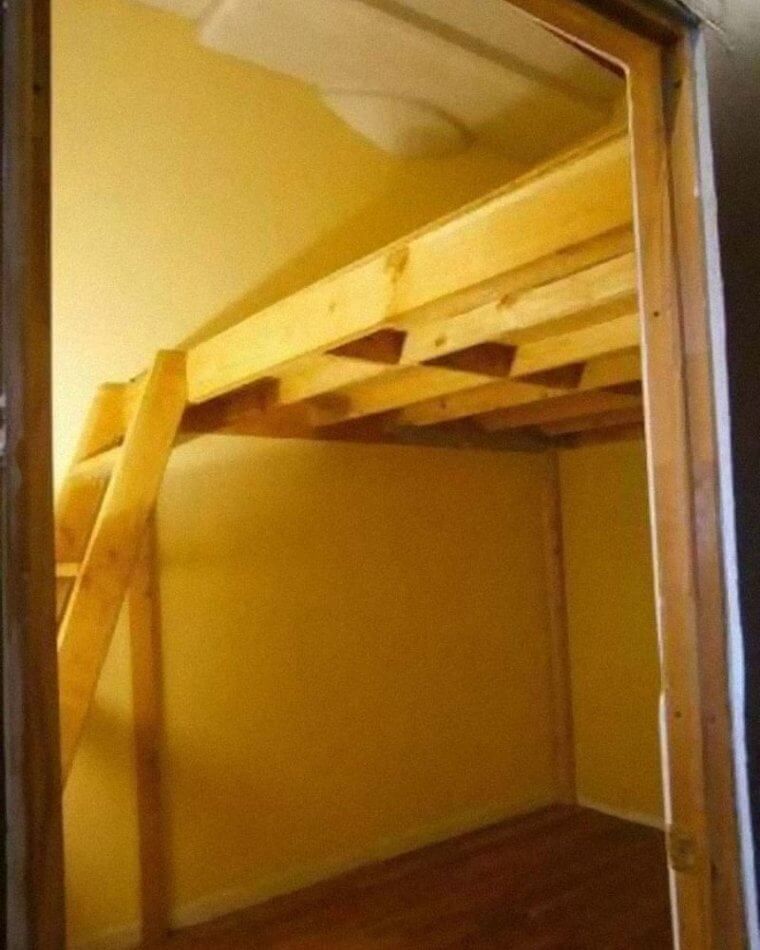 Or they could leave the space underneath the bed relatively empty and instead use it for their daily exercise. Lots of options!